Promotion of Sustainable Procurement
The Fundamental Policy for Sustainable Procurement
We strongly believe that "Good products begin with good ingredients". However, in addition to the focus on quality, we must also examine the impact on the environment and human rights caused by our products. Together with our suppliers, we analyse the impact of our products and work to increase sustainability while sourcing quality raw materials.
1. We will conduct all trade in compliance with the law and in conformity with international rules and norms while taking strong measures against corrupt practices.
2. We will engage in fair and ethical trade and use appropriate procedures in managing confidential information and intellectual property.
3. We will protect human rights and refrain from discriminatory language or conduct, inhumane treatment, or any involvement in human-rights abuses.
4. We will respect the labor rights of employees, adopting sound labor practices and providing a safe and clean work environment.
5. We will work to prevent pollution and environmental degradation at the local and global levels through the sustainable use of resources.
6. We will seek to minimize impacts on the ecosystem with a view to securing sustained access to safe, high-quality ingredients.
7. We will contribute actively to support the sustainability of the local communities where our ingredients are produced.
8. We will encourage our suppliers to adopt the foregoing policies.
9. We will report publicly on the progress of the foregoing policies as appropriate.
Kewpie Group Supplier Guidelines
To realize the Kewpie Group's Fundamental Policy for Sustainable Procurement, we have established the Kewpie Group's Supplier Guidelines for our valued suppliers (i.e., all suppliers including our business partners). With these guidelines, we aim to achieve sustainable procurement and shared prosperity with our suppliers by resolving issues in the supply chain based on mutual understanding.
Policy and Activities for Procurement of Chicken Eggs
Basic Policy
The Kewpie Group recognizes that the animal welfare of laying hens is one of the most important issues for the sustainable production and procurement of chicken eggs as well as considerations for impacts on quality and environment or human rights.
The Kewpie Group agrees with the five freedoms* in principles of animal welfare indicated by OIE (World Organization for Animal Health), and we think it is important that the farming laying hens based on OIE's principles. And we recognize that we should have deep consideration for dignity of life of laying hens since we have utilized chicken eggs for our business for a long time.
*The five freedoms in principles for animal welfare
Freedom from hunger, malnutrition and thirst
Freedom from fear and distress
Freedom from heat stress or physical discomfort
Freedom from pain, injury and disease; and
Freedom to express normal patterns of behaviors
Activities
We confirm that shell eggs procured and used in the Kewpie Group in Japan are complied with "the animal welfare guidelines for laying hens"*1 published and being tried to be standardized by the Japanese Ministry of Agriculture, Forestry and Fisheries.
We have developed and sold products which contains eggs derived from cage-free farms,*2 and we have kept working on them with watching customer's demand and reasonable price level for customers carefully.
We have kept discussing with administrations including academic expert, NGO, NPO, and partners in the supply chain of chicken eggs what the sustainable breeding management of laying hens should be. And we have also kept taking actions in the Kewpie Group on behalf of animal welfare by cooperating with these organizations. Shell eggs procured in the Kewpie Group in overseas are complied with standards and legislation in each country and region or considered its social environment in each country and region.*3
*1"Guidelines for breeding management of hens that correspond to the concept of animal welfare" by Japan Livestock Technology Association 5th edition (March 2020)
*2Breeding style of cage-free farm
The above-mentioned "Guidelines for breeding management of hens that correspond to the concept of animal welfare" mentions the following for the animal welfare.
"The most important thing for the correspondence to animal welfare issue is not the structure of the facility or the situation of the equipment, but daily observation and recording of livestock, careful handling of livestock, and proper feeding management such as quality feed and water. And it is necessary for the parties concerned to fully recognize this and promote it."
*3An Attached URL shows the activities regarding the procurement of eggs and egg ingredients in our business in the USA.
Procurement of eggs and egg ingredients in our group in the USA
Sustainable Procurement of Vegetables
The Kewpie Group offers salads and delicatessen foods made mostly from vegetable ingredients grown in Japan. We therefore consider the procurement of vegetable ingredients crucial to business continuity. Going forward, we will continue to communicate closely with producers to achieve the sustainable procurement of vegetables for the Kewpie Group and the continued growth and development of the producers.
Activities
Establishment of Recycling-Oriented Agriculture
Salad Club, Inc. is working to get our contracted farmers to utilize unused vegetable leaves, cores, and other unused parts generated at its seven directly managed plants during the production of packaged salads as compost and animal feed.
Contract farmers also benefit from the availability of inexpensive domestically produced compost, and the use of organic compost minimizes the environmental impact of their farming activities. By growing vegetables using compost made from unused portions of vegetables and producing products from them, we can build circular processes that do not waste resources, resulting in zero vegetable waste.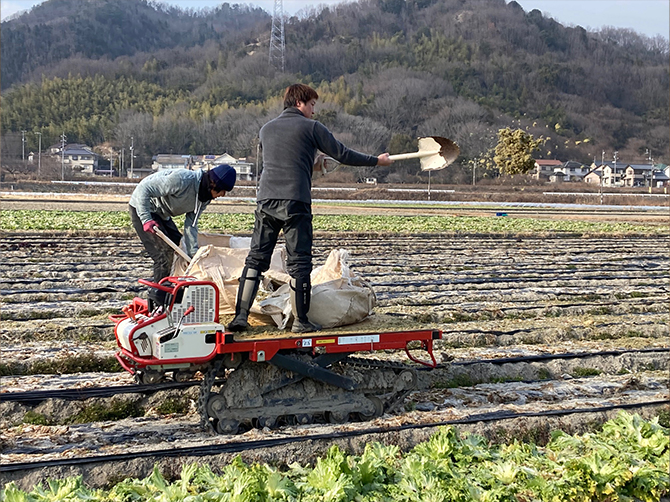 Spreading compost at contracted production sites
Production Awards by the Salad Club
Based on face-to-face interactions with growers, vegetables used in the Salad Club are sourced through "contract purchases" with approximately 400 farms around the country. "Contract purchases" are not just ways to securely source at set prices, but also allows growers to make strategic investments based on a steady income source.
As part of sourcing raw materials safety and reliability, employees from factories and ingredients teams visit farm regularly. Growers are also invited to join factory tours and we proactively work to connect with growers by supporting harvests, providing factory training, and holding barbeques.
Every April, we hold the Grower of Salad Club, an award ceremony to show our appreciation for contracted growers. We evaluate the quality of our primary raw materials and give awards like the Grand Prize, the Award for Excellence, and the Special Award (winners are posted in the Press Release section on the Salad Club website).
We are also building a circular agriculture system by partnering with the producers. We create feeds and fertilizers at our production plants with unused parts of vegetables that are left over from making packaged salad products. We then provide the fertilizers to farms to expand our connections.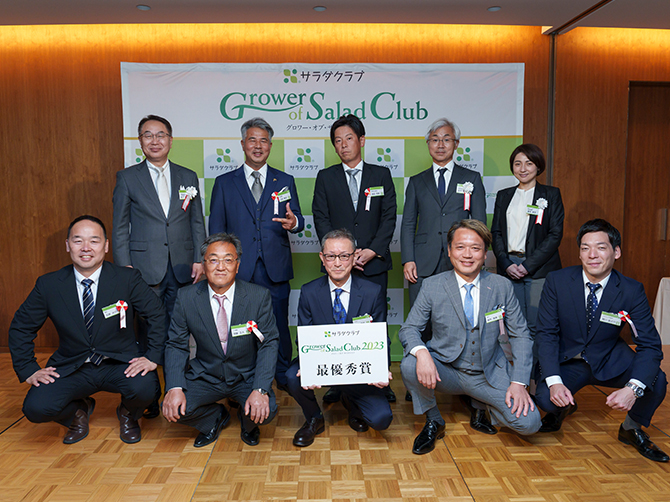 Initiatives to Procure Sustainable Palm Oil
Palm oil is a vegetable oil harvested from oil palms grown in tropical regions, but recent developments have raised issues surrounding human rights abuses for farm workers and large-scale deforestation to develop farmland.
To ensure that we do not use raw materials that contribute to these issues and to help solve those issues, the Kewpie Group established the Kewpie Group Fundamental Policy for Sustainable Procurement in January 2018. Based on that policy, in July 2018, we joined the RSPO (Roundtable on Sustainable Palm Oil) to procure sustainable palm oil for our group in the future.
About this Initiative
In 2019, we began purchasing RSPO book-and-claim*1 certified credits for palm oil procured by the Kewpie Group, and we achieved our goal of purchasing certified credits for raw materials that are 100% palm oil by 2021. Starting in 2022, the Kewpie Group will work to source certified oil through the book-and-claim and mass balance methods. *2
*1 book-and-claim
Certified credits are issued for oil produced by a RSPO-certified manufacturer.
By purchasing those certified credits, this system supports producers of certified palm oil.
*2 mass balance methods
A certification model in which certified palm oil is mixed with other non-certified palm oil during the production and distribution process.
While it physically contains non-certified oil, the proportion of palm oil sourced from certified plantations is guaranteed.
Sustainable Procurement of Paper
The Kewpie Group procures paper and paper products from businesses that do not contribute to new deforestations, comply by the laws of the timber producing region and international human rights standards, and produce products through proper procedures.
We therefore aim to procure paper and paper products that are recognized by forest management certifications (such as the FSC® certification*). This allows us to confirm that the products were made from recycled paper or, depending on the business partner, through activities that do not contribute to new deforestations or human rights violations.
*An international forest management certification that ensures products were appropriately procured from responsibly managed forests and that limited forest resources can continue to be used in the future.
Activities
Use of FSC-certified Paper
Our Nico Nico Box series for baby food began using FSC® certified paper in March 2019. A change in the design of the box enabled new functions like trays and puppets* to provide a fun meal experience while also conveying the importance of paper(FSC® N002978).
*Trays: two cups can be safely held in one hand. Puppet: the animal on the package opens and closes its mouth to encourage babies to chew.
Ingenuity of Corrugated Cardboard structure
We push forward reduction of the paper consumption by devising corrugated cardboard structure and making it thinner while maintaining its strength.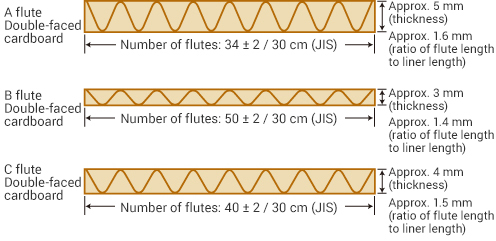 Initiatives to Reduce Packaging (FY2015)
We changed the way we stack palettes for our main product, mayonnaise, when transporting them. By adopting a stacking method that capitalizes on the characteristics of cardboard boxes, we were able to reduce the amount of materials used. Producing less paper waste leads to reducing the burden on the environment. Using this method, we were able to reduce the amount of cardboard boxes used by around 590 tonnes a year.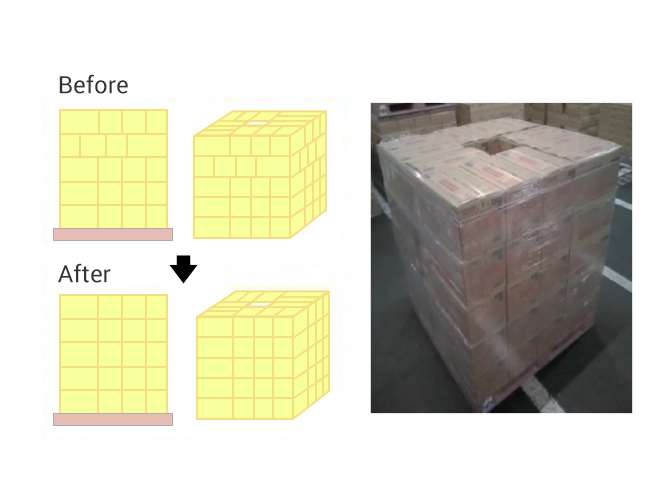 Modified Carton Shape
Aohata adopted the use of shelf-ready packaging for the Aohata 55 Jams UD150 series and the Calorie Half series to reduce the use of cartons by approximately 56 tons per year. In 2022, the company changed the carton liner* used for the Verde Toast Spread series to reduce carton weight and to reduce CO2 emissions during carton production, while maintaining carton strength.
| | |
| --- | --- |
| Used in FY2022 | 138,000 sheets per year |
| Weight reduction | 2,500 kg per year |
| CO2 emissions reduced during carton manufacturing | 1,800 kg per year |
* Liner is containerboard used for the front and back of corrugated cardboard
Resource Conservation Efforts in Packaging
The Aohata 55 Jam (small size) carton*
Change in the size of the flap on the carton resulted in an annual reduction of 14 tons of material and 11 tons of CO2 from the cardboard manufacturer.
* Started in 2015

At the same time, we implemented a "Pop Carton" for easy opening and displaying, improving work efficiency at stores.

Aohata Initiatives with Fruit Growers
The fruit production areas used by the Kewpie Group have expanded worldwide.
Based on the understanding that "70% of the taste of a processed agricultural product is determined by its ingredients," we are striving to secure stable supplies of high-quality ingredients by researching cultivation techniques while building trusting relationships with producers.