Customer Service Office
We value customer opinions and requests. Our Customer Service Office aims to respond promptly, accurately, and sincerely to feedback, and strives to satisfy each and every customer. The helpline also serves as a conduit for fully understanding customers' views and sharing them within the company, where they help us to improve our products and services.
Systems for Acting on Customer Feedback
Inquiries and Comments to the Customer Helpline
Inquiries and Comments to the Customer Helpline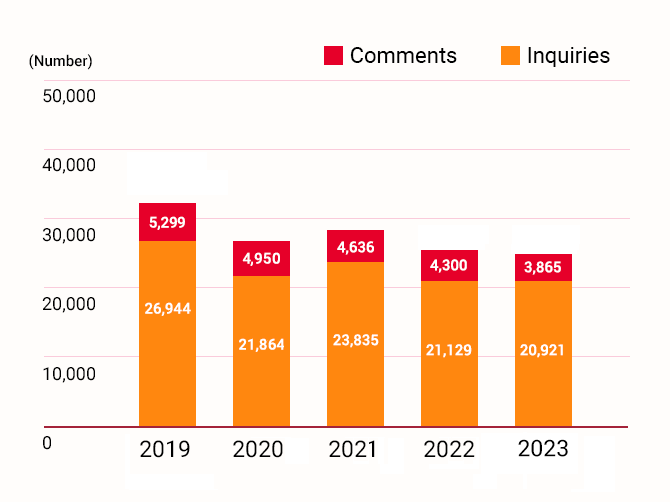 Fiscal 2019 Nature of Inquiries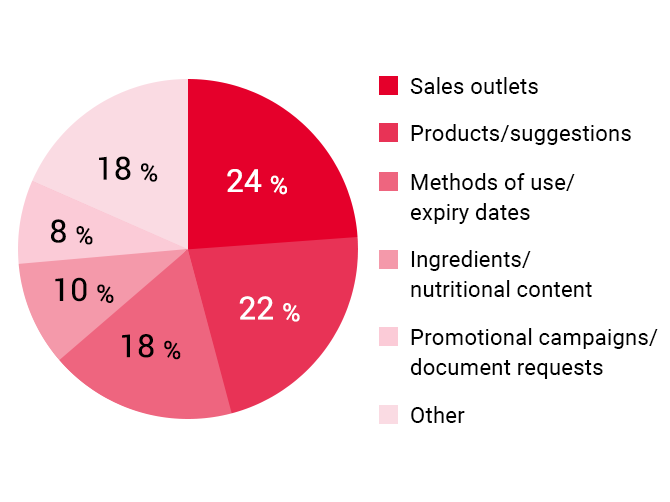 Acting on Customer Feedback
Every day we receive customer comments and requests that help us to review our products. Sharing this feedback within the company leads to improved products and services.
1

Creating Customer Feedback Databases

Depending on content, customer feedback is categorized as either a comment or an inquiry, and fed into our databases.

2

Listening to and Analyzing All Feedback

Our staff listen to all feedback and analyze it before sharing the information with relevant departments. Points requiring improvement are submitted for discussion.

3

Discussing Proposals in the Customer Feedback Committee

Our Customer Feedback Committee meets regularly to discuss and decide on matters requiring improvement. It is chaired by the Senior Corporate Officer in charge of the Quality Assurance Division and its membership includes managers from departments such as the customer helpline, product development, R&D, sales, production, and public relations.

4

Examining Improvements in Development Departments

R&D and product development departments examine products to be improved from various angles to determine direction and design.

5

Trialing in Research Departments

Our research departments collaborate with experts and container manufacturers to repeatedly trial and test improved products. They report progress to the Customer Feedback Committee and confirm that improvements respond to customer feedback.

6

Launching New Products

Once ease of product use and clarity of labelling have been rigorously checked, the new product that has been improved by customer feedback is ready for launch.