Mayonnaise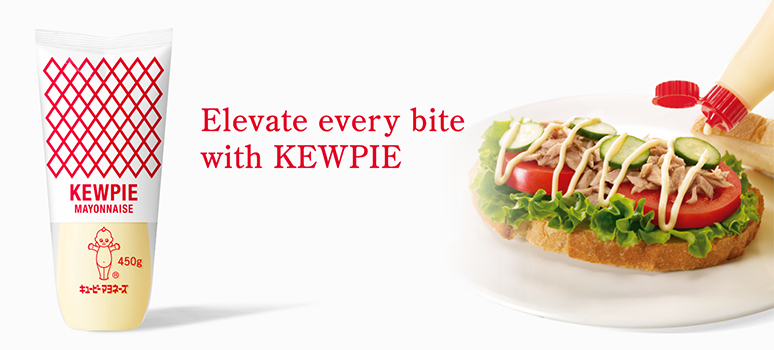 "KEWPIE Mayonnaise" is Kewpie's flagship product, and has been cherished by consumers across Japan since 1925.
It goes well with salad, sandwiches, sushi, and much more.
Be creative and enjoy fancy dish accompanied by KEWPIE Mayonnaise!
History
Birth of KEWPIE Mayonnaise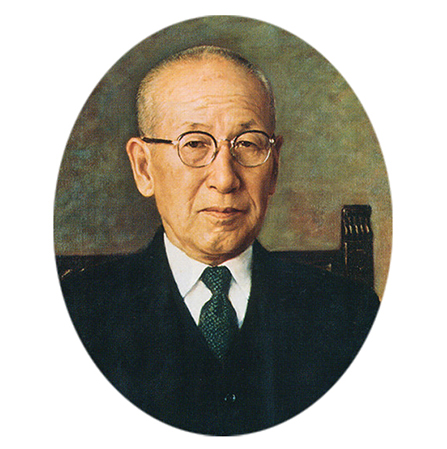 Founder : Toichiro Nakashima
Aspiring to create a brand everyone loves, founder Toichiro Nakashima named the nourishing condiment "KEWPIE Mayonnaise", with the hope of improving physique of Japanese people. In 1925 when Japan's first mayonnaise started to be manufactured and distributed by Kewpie, they used twice as much egg yolk as imported mayonnaise of that time.
This was because Nakashima, who first discovered mayonnaise in the USA, had always hoped to create nourishing, high-quality mayonnaise.
The Secrets of KEWPIE Mayonnaise
KEWPIE Mayonnaise tastes like no other mayonnaise!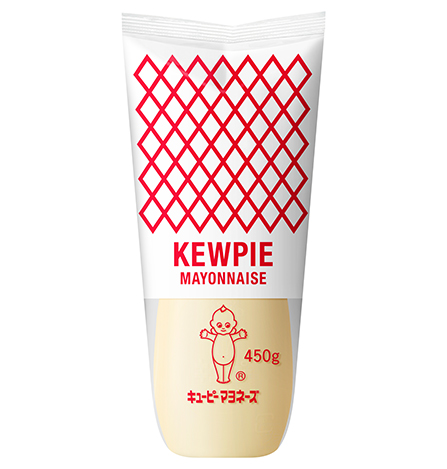 KEWPIE Mayonnaise contains 4 egg yolks per 500g. The amino acids yielded from the protein of the egg yolks is a key factor for KEWPIE's tasty, savory flavor.
KEWPIE Mayonnaise contains no chemical preservatives.
KEWPIE Mayonnaise is naturally preserved with vinegar and salt.
KEWPIE Mayonnaise is packed in a special bottle designed to keep out oxygen.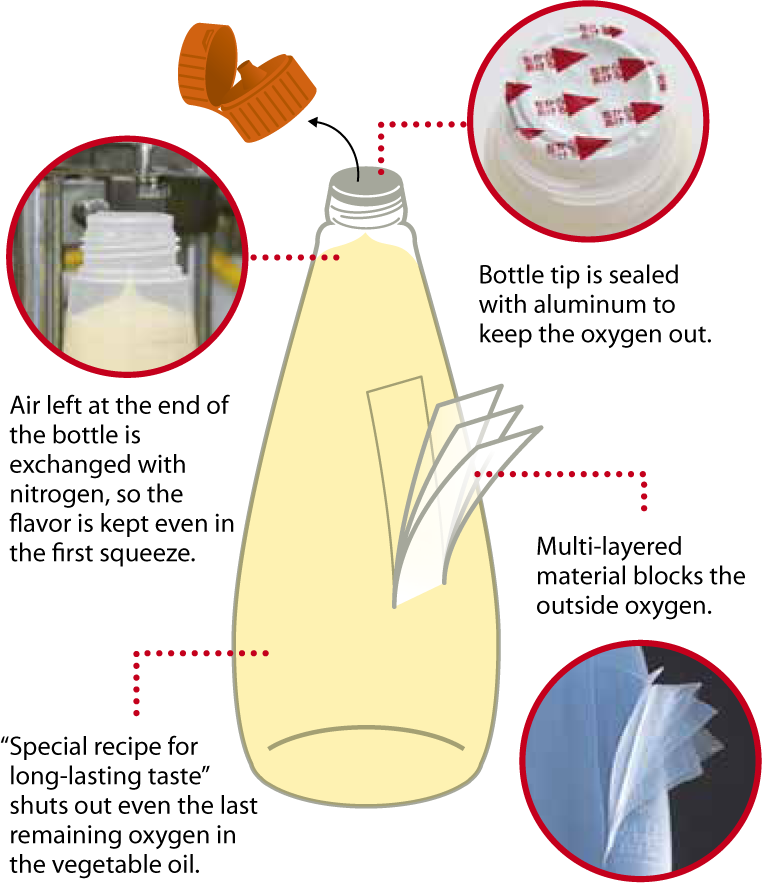 KEWPIE Mayonnaise is packed in an easy-to-handle squeeze bottle.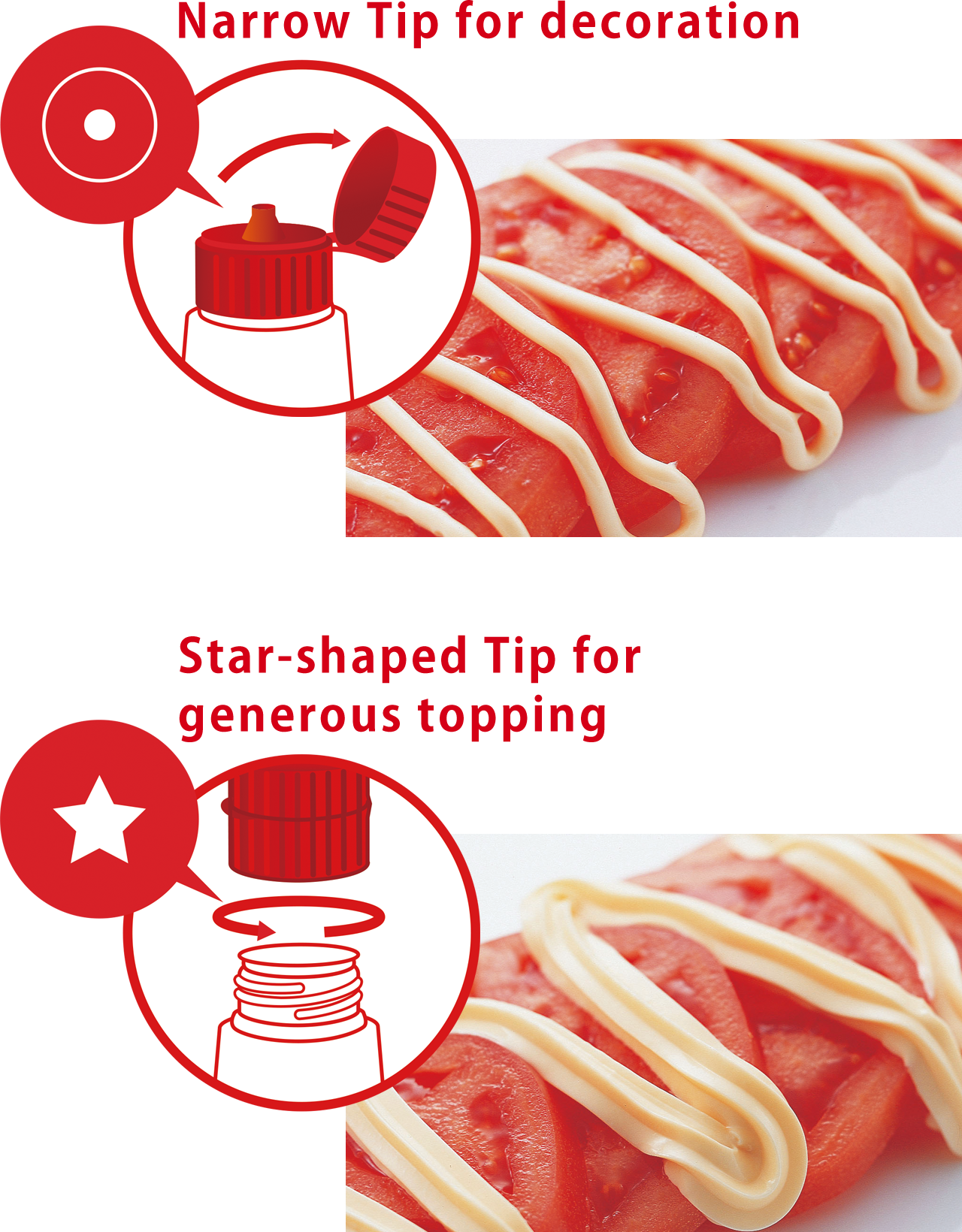 Lineup
Our export mayonnaise lineup for overseas markets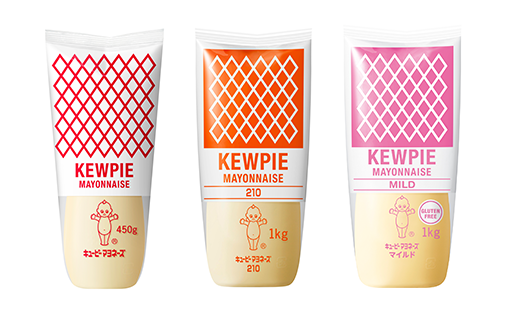 Our worldwide mayonnaise lineup
Recipes
Tuna and Avocado Mayonnaise Toast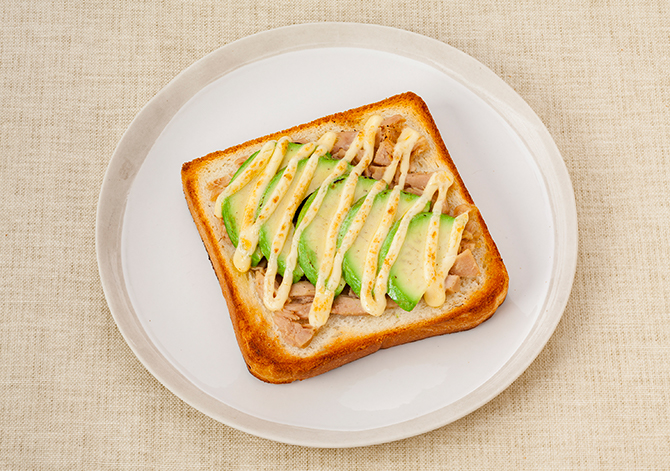 A hearty toast with tuna and avocado on top. The savory flavor of the grilled mayonnaise goes well with it.
Ingredients and Directions
Broccoli and Shrimp Pocket Sandwich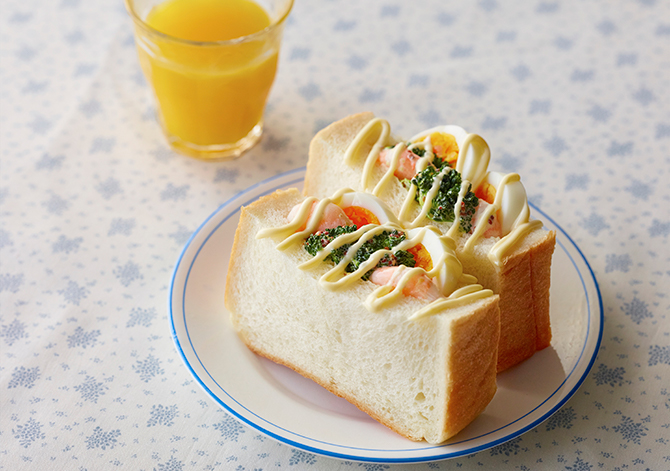 A sandwich with broccoli, shrimp and boiled egg dressed with mayonnaise in a bread cut into pockets. It is a filling meal which is easy to make, and recommended for busy mornings.
Ingredients and Directions
Shrimp and Egg Salad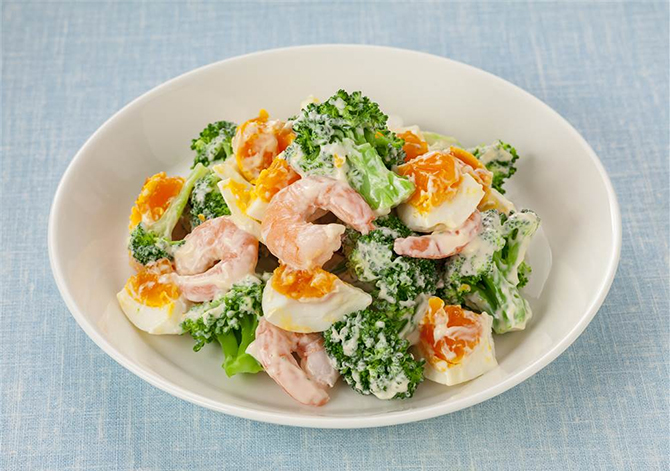 A simple but filling salad that is quick and easy to prepare.
Ingredients and Directions
Baked Mushrooms with Mayonnaise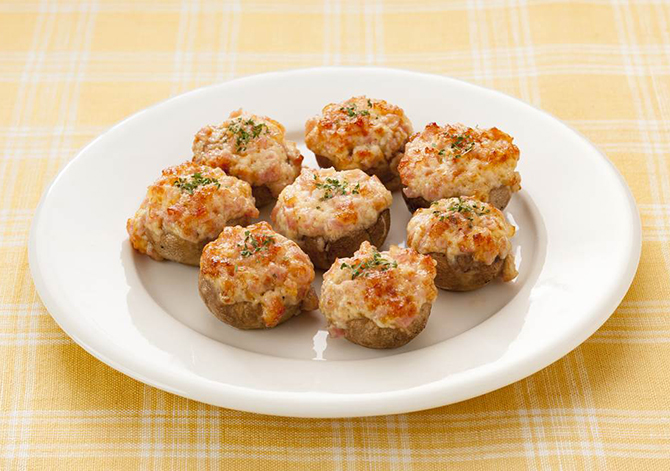 Topped with aromatic garlic mayonnaise, these baked mushrooms make a great appetizer or party snack.
Ingredients and Directions
Japanese Egg Sandwiches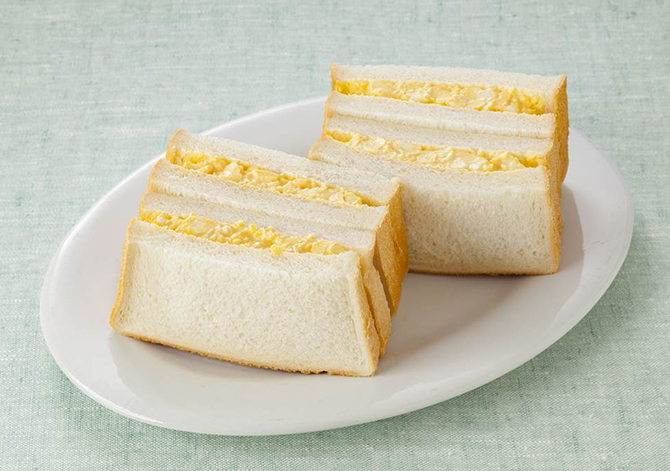 This simple recipe requires no boiling.
The egg filling is heated in the microwave and mixed with KEWPIE Mayonnaise.
Ingredients and Directions
Vegetable sticks with mayo sauce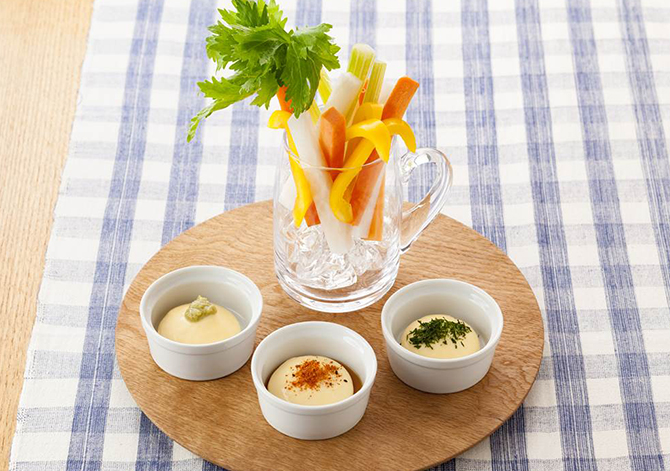 These 3 types of Mayo based dips go great with veggies.
Ingredients and Directions
Tips
Surprisingly low-salt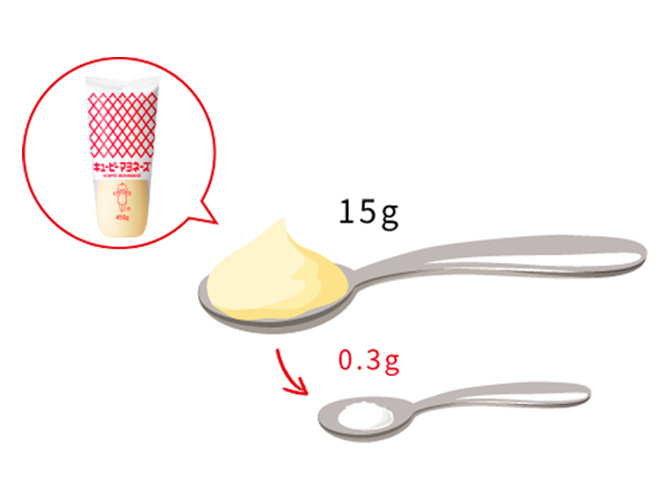 KEWPIE Mayonnaise may taste strong, but it contains only 0.3g of sodium chloride equivalent in every 15g (about 1 table spoon). It is less than "a pinch of salt" which is said to be about 0.5g.
Use eggs without waste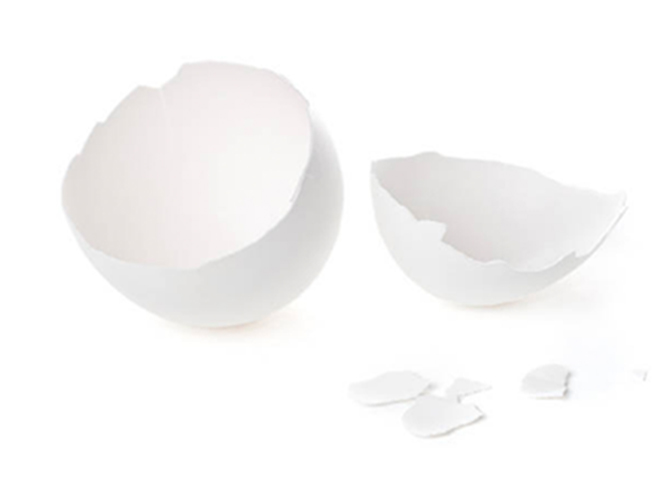 Each year, 28000 tons of egg shells are produced in the production of mayonnaise and other products.
Kewpie started recycling in the 1950s and has now succeeded in recycling 100% of eggshells.
Calcium-rich eggshells are used in calcium-fortified foods, soil conditioners, and fertilizers.
The thin 0.07 mm eggshell membrane inside the eggshell is used as a raw material for cosmetics and food.
Also, egg white is used for sweets, kamaboko and ham.
Ingredients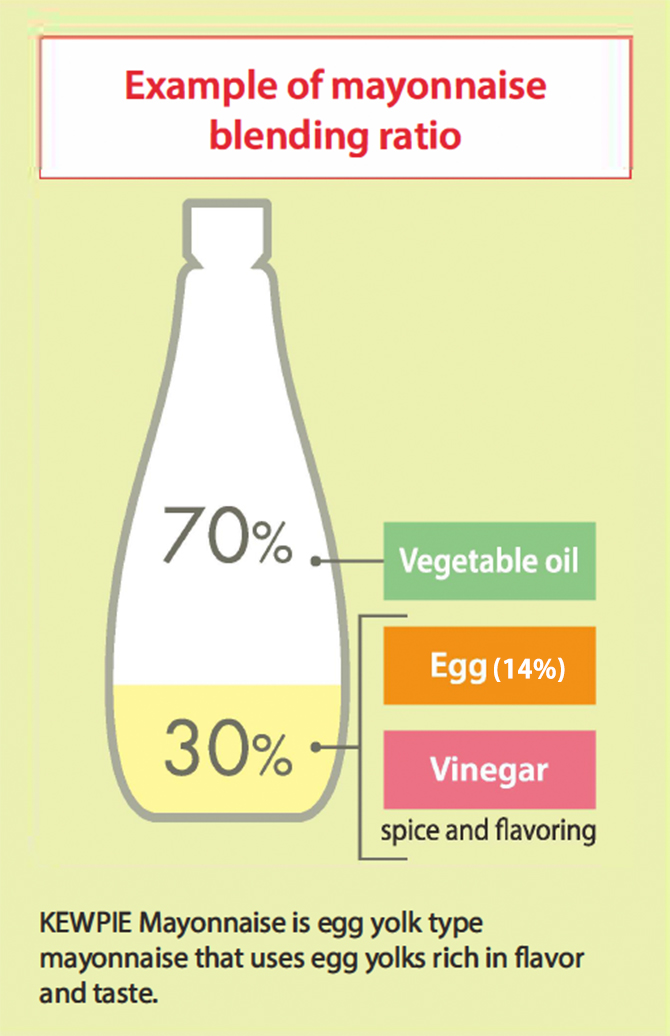 The main ingredients of KEWPIE Mayonnaise are oil, egg, and vinegar.
KEWPIE Mayonnaise is an "egg yolk type" mayonnaise, which contains egg yolk instead of whole egg.
The secret of distinctively rich flavor is egg yolk.