A Passion for Quality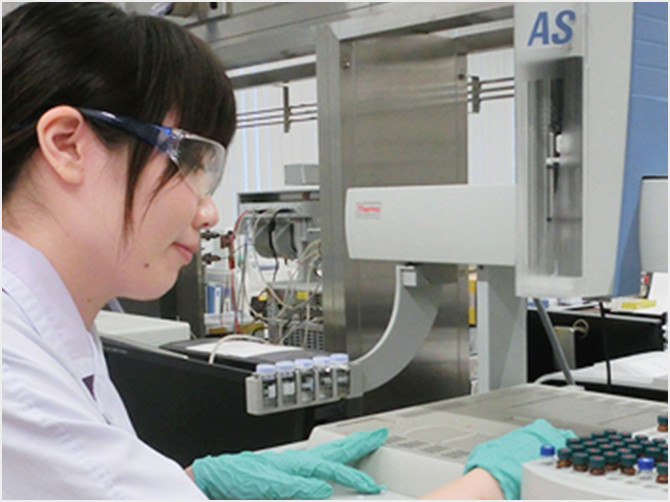 As well as being essential for life, food brings people together. Our products play a part in this.
We constantly put quality first in every process, from planning to sales, in order to supply our customers with products that they can confidently serve to those closest to their hearts.
Developing People to Assure Quality
Quality is assured by people. We create forums for learning and information-sharing in the aim of enhancing quality.
Monodukuri Gakko
The quality course at our Monodukuri Gakko (food production school) provides a learning forum for managers across all divisions involved in the product-making process. They learn about quality at all levels, from the basics of product quality management to advanced applications. After completing the quality course, managers return to their divisions to train their own staff, passing on the knowledge and techniques they have acquired. Monodukuri Gakko trains core personnel who share their passion for quality with their co-workers to raise quality throughout the entire Kewpie Group.
Monodukuri Gakko Subjects
Safety Principles
Quality techniques and knowledge relating to microbes, analysis, etc.
Food Security Principles
Understanding of quality rules, including laws, regulations, and in-house procedures.
Sources of Reliability
Managers study past cases to learn approaches that form the foundations of quality.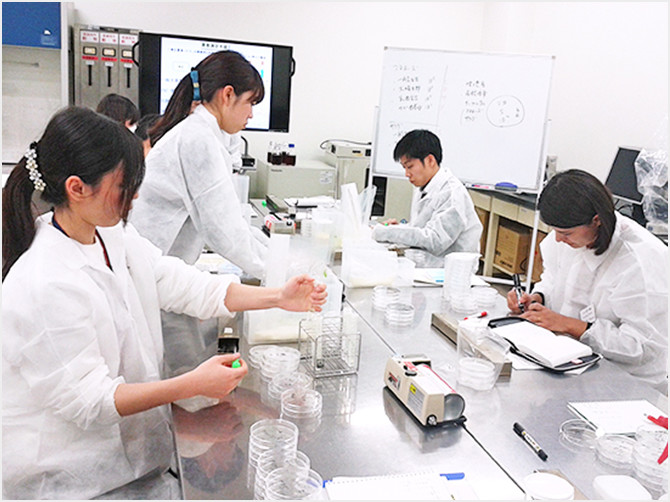 Wakuwaku Katsudo Combined Presentation
This initiative brings happiness to our customers and employees alike. The production division, sales and staff divisions, and overseas teams gather to present the customer quality improvement activities they have been involved in.
Sharing lessons and tips from other teams across the organization enhances quality throughout the Kewpie Group.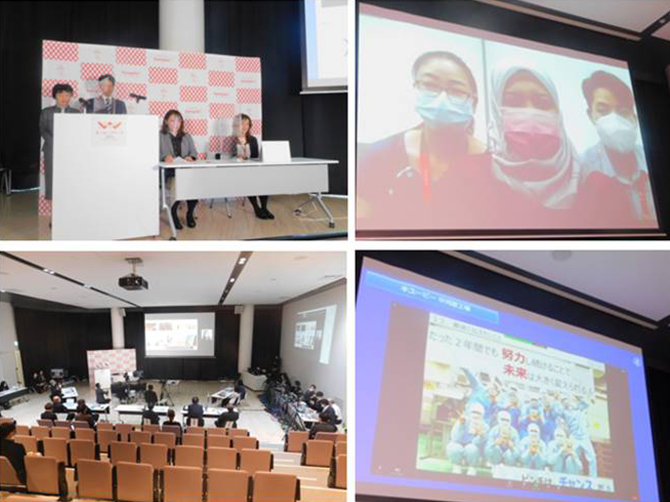 Creating Systems to Underpin Quality
We have introduced systems to maintain and improve Group quality levels by gaining international certification from third parties.
Third-Party Food Safety Certification
All Kewpie Group production facilities have been certified by the Global Food Safety Initiative (GFSI).
Regular reviews by an external body provide an objective perspective on assuring and improving quality, enabling us to continually maintain and raise quality levels.
GFSI Certification
GFSI was established in May 2000 to provide food safety certification. GFSI certification includes certification against the FSSC22000 standard developed in the Netherlands and the SQF standard developed in the US.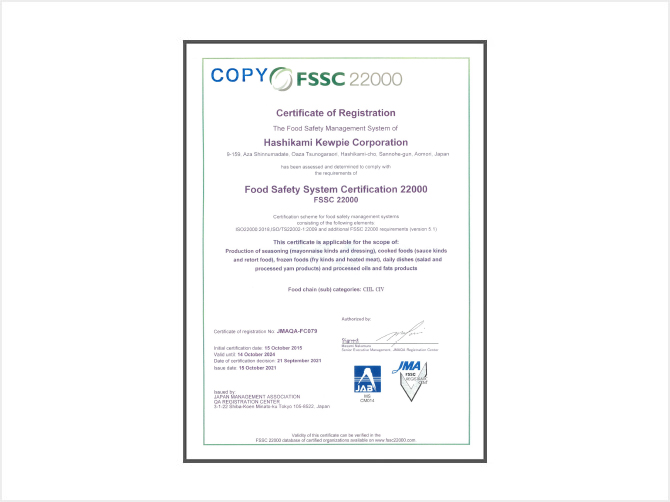 Quality Improvement Techniques
We research and introduce the latest production techniques in our efforts to improve quality.
Analytical Techniques
Techniques to identify microbe varieties contained in foods have advanced rapidly in recent years.
Identification of Microbes Contained in Foods
Previously microbes were isolated from foods and cultured before microscopic observation to study their properties, and identification took 7–10 days. The emergence of genetic methods reduced this to 1–2 days, and now the use of protein measurement techniques has shrunk the identification timeframe to just 30 minutes.
As well as proactively introducing effective methods as techniques have progressed, we have partnered with external bodies to develop new technologies.