Disclosure Policy
Basic Concept
The Kewpie Group website provides a comprehensive report on sustainability considerations and initiatives with our stakeholders. This report is prepared in line with the GRI Sustainability Reporting Standard.
In addition, we offer easily understandable information on sustainability through the Kewpie Group Communication Book to help website visitors familiarize themselves with the idea of sustainability.
Furthermore, we release the Kewpie Group Integrated Report for all shareholders and investors. It reports on our mid and long-term strategies to create corporate values that integrates both financial and non-financial information.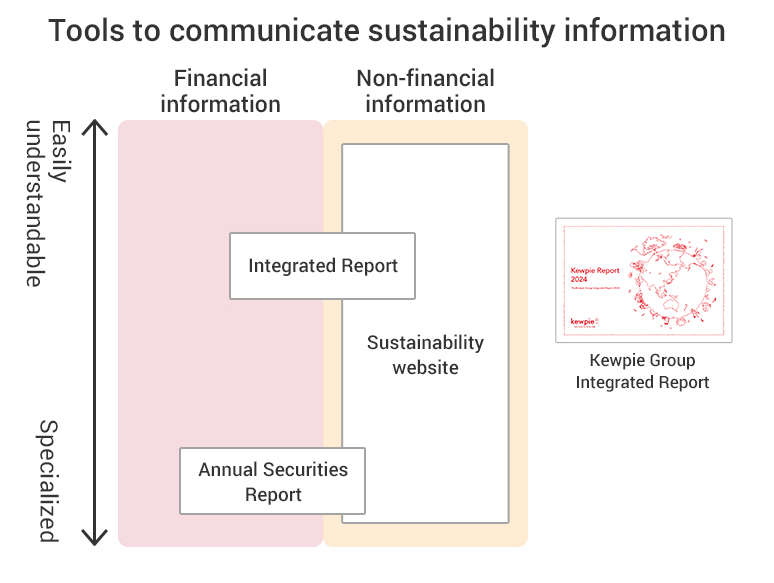 Reporting Period and Covered Organizations
Covered organizations: Kewpie Corporation, its consolidated subsidiaries and its equity-method affiliates, totaling 62 organizations
Reporting period: Fiscal 2019 (December 1, 2018 — November 30, 2019) *includes some activities conducted outside of the reporting period
Reporting cycle: Updated each year in an annual report
Publication: July 2020
This website has been created in accordance with the set of GRI (Global Reporting Initiative) Sustainability Reporting Standards.
Contact Information
For additional sustainability-related information, please contact us at the following:
Environmental Team, Sustainability Promotion Department, Management Promotion Division, Kewpie Corporation
1-4-13, Shibuya, Shibuya-ku, Tokyo, Japan
Changes in Our Reports
| | |
| --- | --- |
| Fiscal 2001 — | Environmental Report |
| Fiscal 2005 | Environmental and Social Report |
| Fiscal 2006 — | Social and Environmental Report |
| Fiscal 2019 | Website, Integrated Report, Communication Book |
| Fiscal 2020 | Website, Integrated Report, Communication Book |