Health Initiatives
Since our start as a mayonnaise manufacturer and retailer in 1925, Kewpie Group has developed a wide range of home cooking, ready-made meals, and restaurant food products to help create to healthy dietary habits by increasing vegetable intake, and has been working on a variety of initiatives in response to the ever-diversifying food scene. Our business also aims to contribute to the health and diet of every generation, from babies to the elderly, with sales of products such as food for babies, health care, nursing care, and medical requirements.
Initiatives Toward Extending Healthy Lifespans
One social problem related to health in Japan is that there is a ten-year age gap between the average life expectancy and the healthy life expectancy, the age at which people can live independently.
We believe that closing this gap will not only delight many people, but will help curb the cost of healthcare, a major national issue.
We are striving to extend healthy life expectancies by focusing on supporting a delicious, well-balanced diet premised on salad and eggs.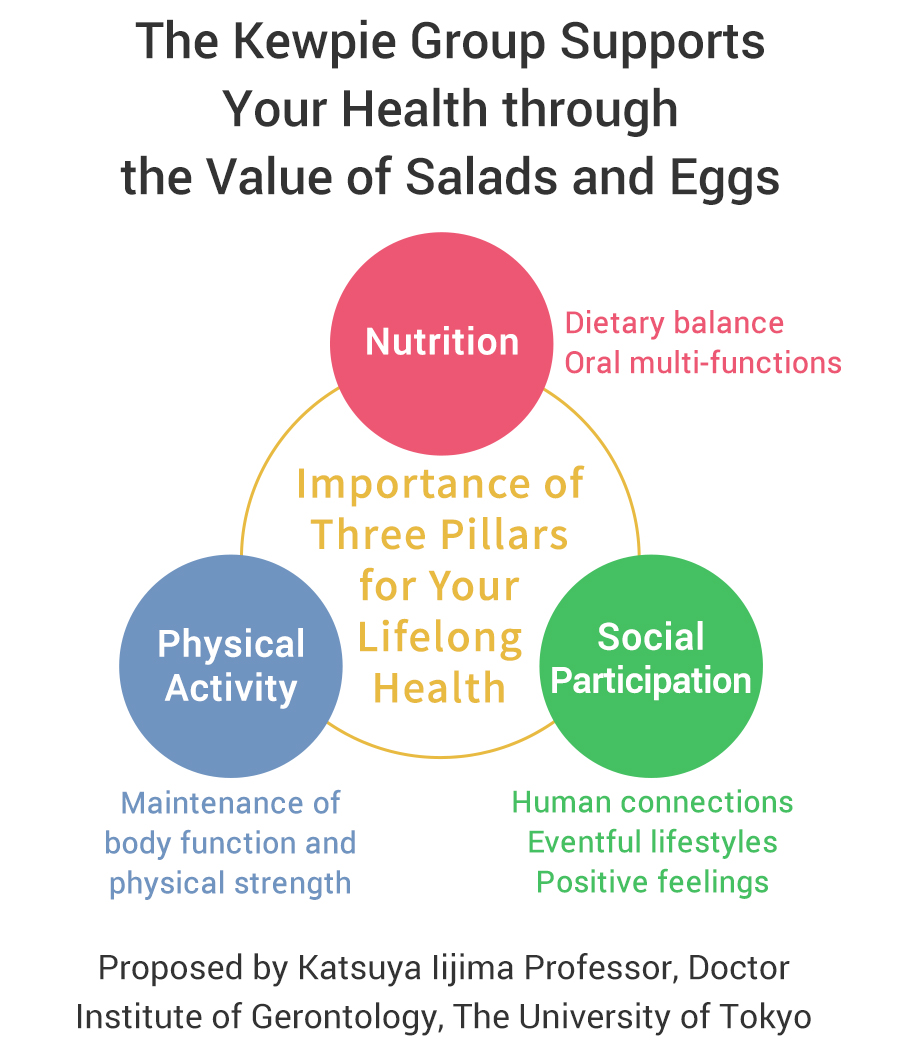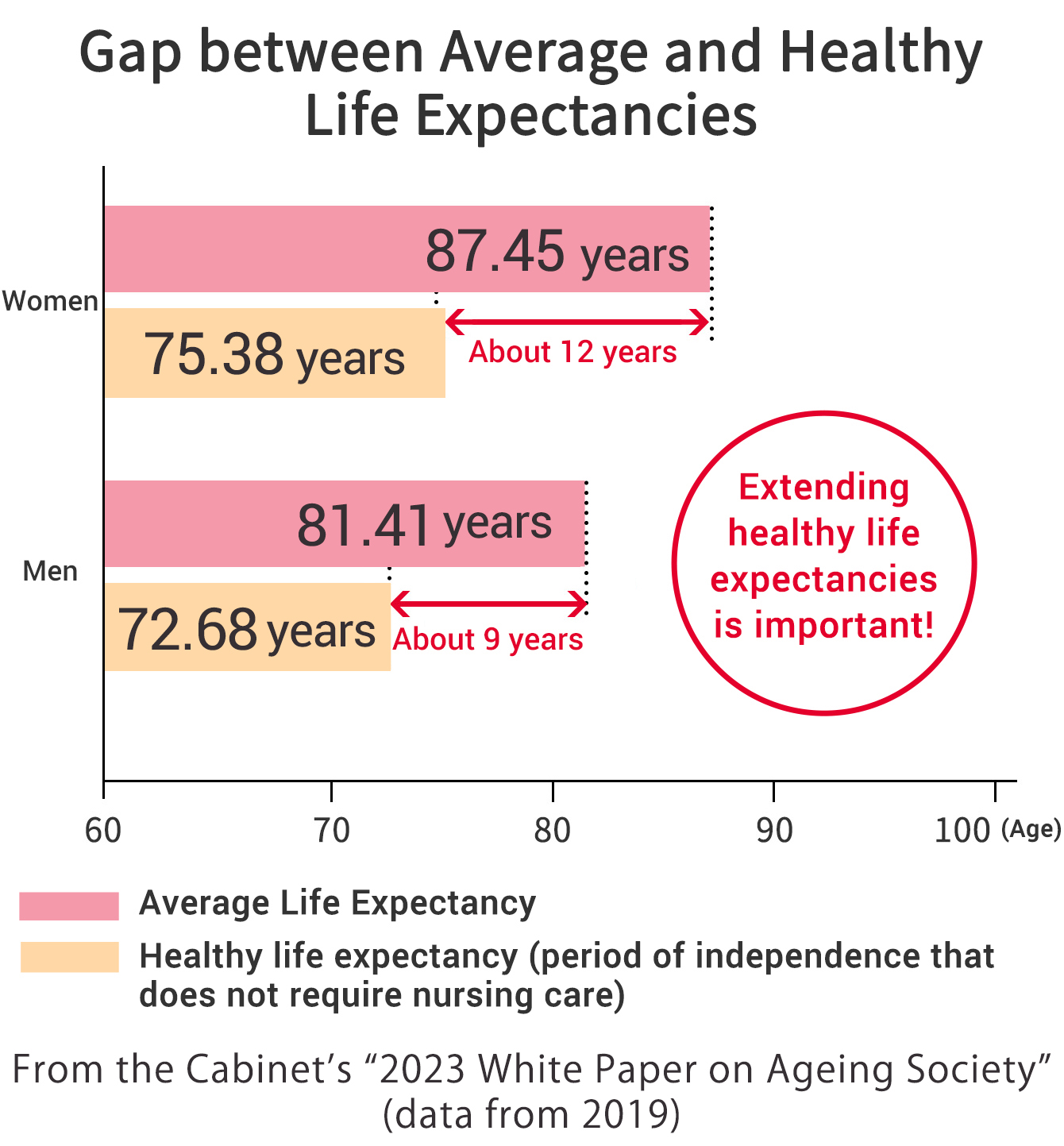 Supporting Health Through Diet and Exercise!
We are working together with Central Sports Co., Ltd., who share our belief in the importance of nutrition, physical activity and social participation as the three elements of leading a healthy life.
In response to demand from gym goers and instructors who want an affordable and effective way to consume protein, we hold food workshops and provide menus and health information to participants.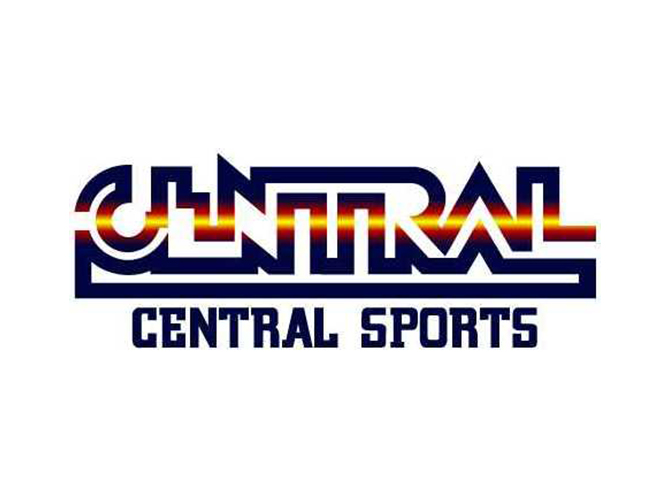 Lecture Events Themed on Food
Communicating correct information about food and the importance and joy of food is one of our most crucial roles.
In our hope to contribute to healthy and enjoyable dietary habits, we send employees out to give lectures themed on food that provide correct information on diet and health.
We currently have three different programs; "The Appeal of Vegetables" features content designed to stimulate interest in those who attend by watching DVDs on vegetable nutrition and ideal intake as well as showing cooking methods that participants can put into practice in their everyday lives.
We've received comments such as, "I'll plan my meals with 350g of vegetables per day in mind," or "I learned about the broad appeal of vegetables and how to enjoy them at the dinner table," indicating that this program conveys the appeal of vegetables.
Tamago Star
In FY2019, we started the internal certification program "Tamago Star."
We will increase the number of people across the entire Kewpie Group who can talk about eggs, and we are aiming to become the "Leading Company for Eggs."
Tamago Star is accredited to those who have attended a study session for correctly communicating knowledge about eggs and have acquired 3-Star Tamarie certification (Nihon RangyoKyokai Association).
Going forward, those accredited will take on the role of awareness-raising activities to communicate the appeal of eggs, both inside and outside the company.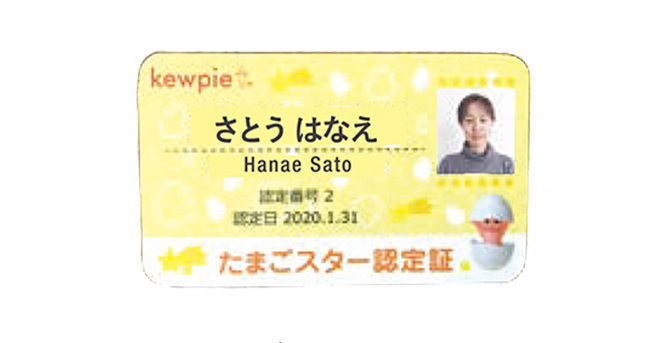 Initiatives in collaboration with The University of Tokyo Institute of Gerontology
We are partnering with The University of Tokyo Institute of Gerontology, and participating in food consortiums. We are working with other companies and local governments based on the three pillars for lifelong health, and we have also begun working towards the creation of a frailty prevention industry in collaboration with industry, government, and academia.
Topics
Carried out a joint study with Matsumoto City in Nagano Prefecture, and Matsumoto University
A healthy life expectancy is strongly related to diet, and to prevent lifestyle-related disease, it is said we need to avoid salt and ensure to eat plenty of vegetables.
That is why, to make healthy diet recommendations, we carried out a study with Matsumoto City, Nagano Prefecture with its longevity and high intake of vegetables in the diet and health of its citizens.
Along with the analysis of the study, we are carrying out joint research with Matsumoto University about how eating salad (vegetables) and eggs is related to health awareness, motor function, and well-being.
Looking ahead, based on these results, we will make presentations at academic conferences and provide healthy diet recommendations.
Explaining the research to the participants
Initiatives Toward Children
Using ingredients such as wheat-free soy sauce, we are developing baby foods that do not contain the seven common food allergens.
Our Mame-Katsu® Campaign
「Beans are a well-balanced form of nutrition, but many children are not used to eating them. When eating school lunches, children often leave beans on their plates because they don't like the texture. Since 2016, Kewpie has been providing educational materials for elementary school nutrition lessons to tell children about the goodness of beans and make them more likeable. We also suggest school meal plans incorporating beans to help children get into the habit of eating this nutritious food.
Food Allergy Initiatives
In recent years food allergies have been on the rise in Japan and other developed countries, and we believe this is an important issue for food manufacturers to address. We are engaged in various efforts to enable more people to enjoy their food.
Ingredient Labelling
Focused on providing easy-to-understand labeling to its customers at a glance, Kewpie provides a summary of the allergens included in its products (the seven legally specified ingredients and 20 items recommended for labelling). Our baby-food products include labelling on the front listing use of seven highly critical or prevalent food allergens: eggs, dairy, wheat, shrimp, crab, buckwheat, and peanuts.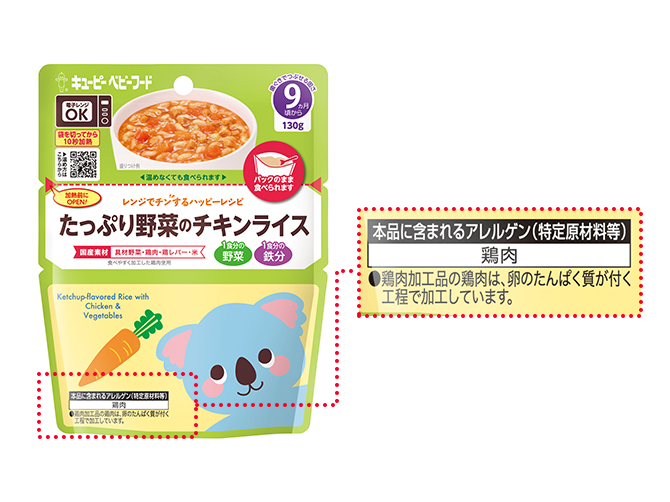 Baby Foods Free of Seven Common Food Allergens
We are developing baby foods that do not contain the seven common food allergens, using ingredients such as wheat-free soy sauce.
Egg-Free Mayonnaise-Type Condiments
In spring 2014, to cater to students with egg allergies Kewpie launched an egg-free mayonnaise-style condiment for commercial use in school meals. After it went on sale, we perceived a growing household need for such products and in February 2015 we launched an egg-free mayonnaise-type condiment on the consumer market. We will continue contributing to better diets by creating products that society needs.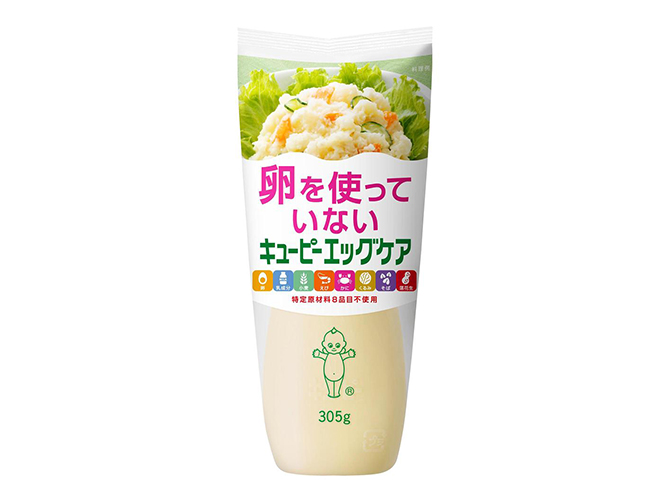 Egg Allergy Research
Egg Allergy Prevention through Eating
Food allergies cause reactions such as hives and breathing difficulties, and egg allergy is thought to be especially common in babies. Previously it was thought that consumption of foods causing allergies should be avoided, but recent research* has revealed that starting to feed babies small amounts soon after they are weaned is an effective way of preventing the onset of allergies.
The Kewpie Group is working with specialist medical institutions to study ways of using less allergenic eggs created by heating, etc. and linking their use to safer diagnosis, treatment, and prevention of egg allergy. We will continue to support the discovery of new methods for diagnosis, treatment, and prevention.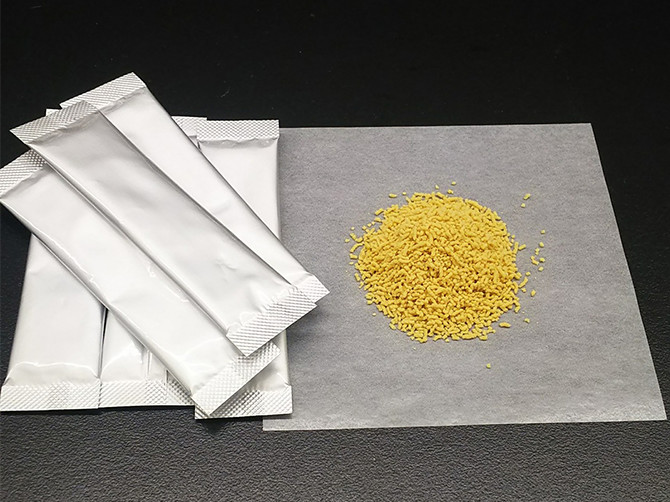 Less allergenic egg ingredients created by heat treatment.
*In 2016, the National Center for Child Health and Development presented the results of research on egg allergy prevention. A study of 121 infants suffering from atopic dermatitis showed that with proper skin treatment, the incidence of egg allergy at one year of age in babies that ate small quantities of powder made with heat-treated eggs from the age of six months was 8%, compared to 38% for babies that did not eat the powder, demonstrating the effectiveness of this technique.
Initiatives in Medicine
Kewpie's fine chemicals business provides a variety of food, cosmetics, and pharmaceutical products, including the acetic acid bacteria enzymes created as a result of our vinegar-related research as well as egg yolk lecithin and lysozyme. Researched for over 30 years, hyaluronic acid is a core material in the business, and Kewpie has the largest domestic sales volume according to the 2017 Fuji Economic Survey.
Kewpie is the only manufacturer in Japan that produces hyaluronic acid in two ways; extracting it from the rooster comb and through microbial fermentation. Making use of our strengths in molecular weight control technology and modification technology, we continue to provide technological support to satisfy the needs of our customers.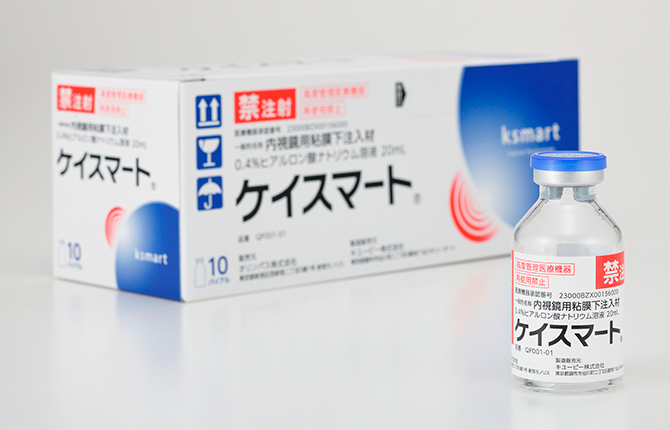 Kewpie's first medical device is K Smart, a submucosal injectable for endoscopic therapies
Kewpie's hyaluronic acid is used in a variety of pharmaceuticals, including as a material for agents improving joint function, and in medical eye drops. Using the manufacturing and quality control knowhow gained through these initiatives, Kewpie is developing a business focused on the planning and development of medical devices using hyaluronic acid.
Sodium hyaluronate is used in the endoscopic injectable material, which is a medical device used in endoscopic surgeries to remove cancerous lesions discovered at an early stage in the stomach, esophagus and colon before the cancer spreads beyond the mucosal layer of the gastrointestinal tract. The viscosity of the hyaluronic acid helps to separate the mucosal layer from the muscle layer and by maintaining that state assists in either improving detachment or resecting of the lesion. By helping to treat cancer in its early stages through the use of endoscopes, Kewpie is working to extend healthy life expectancy.
Kewpie also offers products that can be used the day before the test by those taking colorectal exams and visiting medical institutions.