Contribution to Extending Healthy Life Expectancy
Our Approach to Extending Healthy Life Expectancy
For frailty prevention, the key to lifelong health, the Institute of Gerontology at the University of Tokyo has proposed three pillars: nutrition (dietary balance and oral multi-functions), physical activity (including exercise), and social participation (social activity). However, these are common points for all generations, not only for older people.
It is important to successfully incorporate the three pillars into one's life cycle. Two is better than one, and three better than two.
In particular, the Kewpie Group will help extend healthy life expectancy for everyone by supporting healthy dietary lifestyles, with a focus on salads and eggs.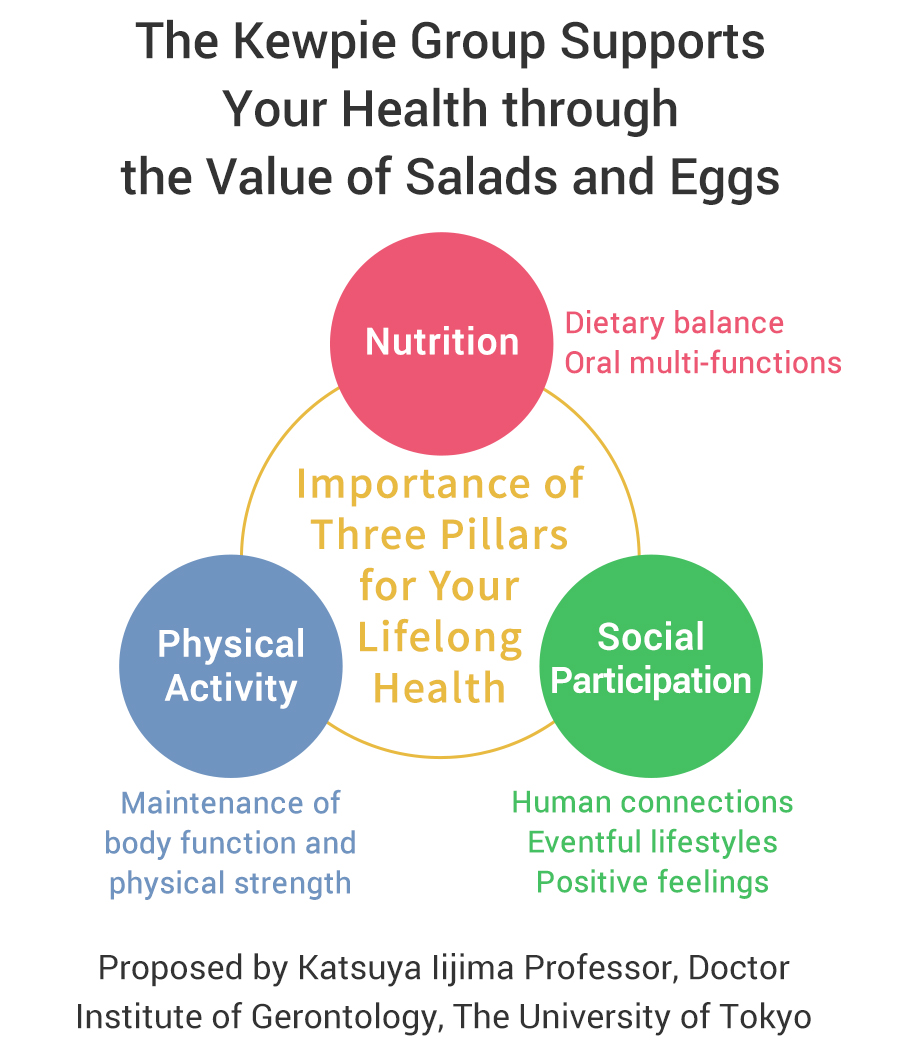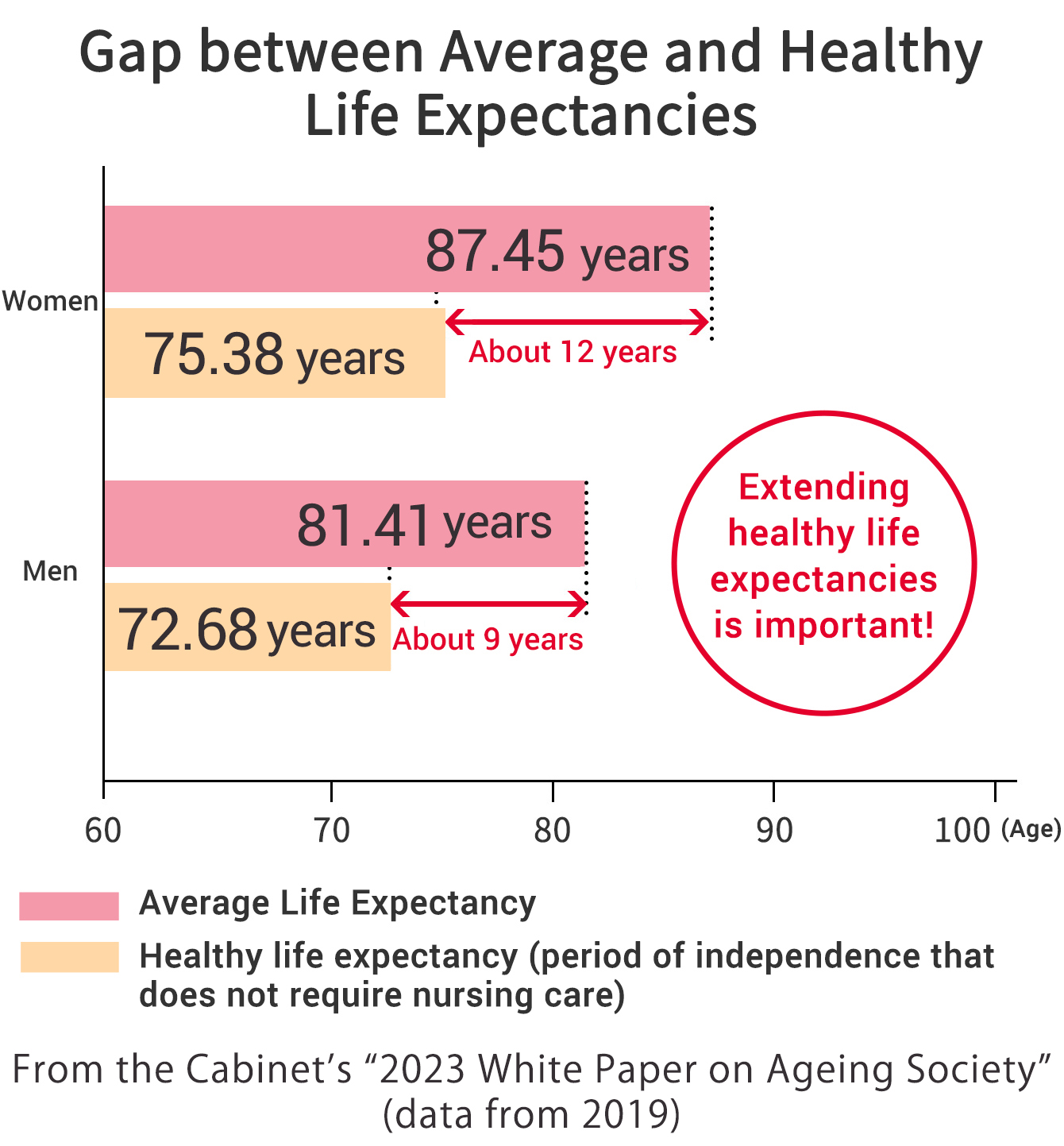 Collaboration and Research to Extend Healthy Life Expectancy
Supporting Health Through Diet and Exercise!
We are working together with Central Sports Co., Ltd., who share our belief in the importance of nutrition, physical activity and social participation as the three elements of leading a healthy life.
In response to demand from gym goers and instructors who want an affordable and effective way to consume protein, we hold food workshops and provide menus and health information to participants.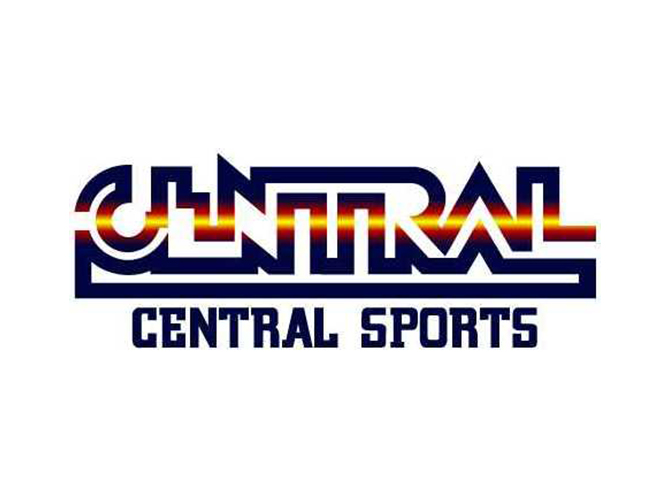 Sharing Useful Information for Healthy Dietary Lifestyles through a Joint Project
We launched a joint project called Salad and Egg Recipes and Healthy Kitchen with the ABC Cooking Studio, which shares our desire to contribute to healthy dietary lifestyles. In response to dietary issues such as a lack of vegetables and protein, and excess salt, the two companies leverage their respective strengths and expertise to provide information on healthy dietary lifestyles related to salads and eggs, through web content and one-day lessons.
In March 2023, we published a Report on Salad and Egg Recipes and Health 2023, which summarizes our research on health awareness and concerns, and issues when preparing salad and egg dishes.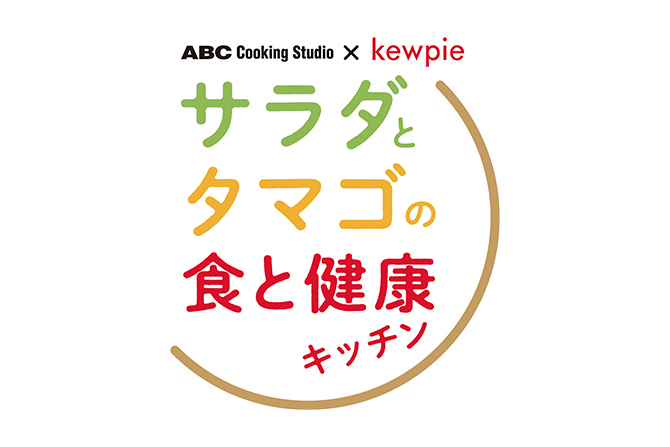 Initiatives in Collaboration with The University of Tokyo Institute of Gerontology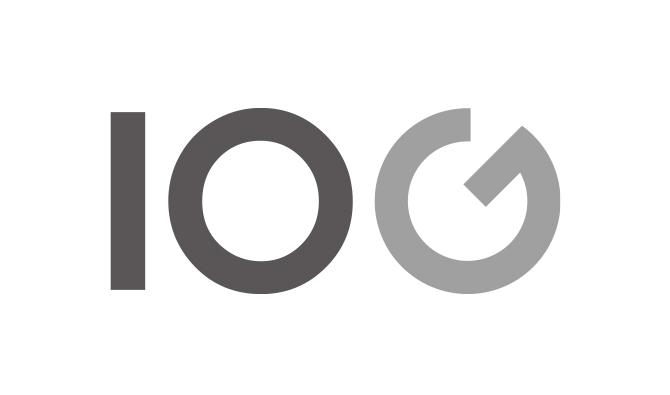 The University of Tokyo Institute of Gerontology
In cooperation with the Institute of Gerontology at the University of Tokyo, we are participating in Study Group on Ideal Diets, which is a food consortium for industry collaboration with companies that share the same aspirations to improve the dietary lifestyles of older people. In order to prevent frailty and take measures, the study group aims to create new industries based on the three pillars of lifelong health. Specifically, it works to discover and nurture various industries that help prevent frailty for sustaining limited public resources in the medical and nursing care fields in Japan, which is facing a super-aging and declining population.
Conducting Surveys for Healthy Dietary Lifestyles
Life expectancy is strongly related to dietary habits, and it is reportedly healthier to refrain from salt and actively consume vegetables as a prevention of lifestyle-related diseases.
In order to propose healthy dietary lifestyles, we conducted joint studies with Matsumoto City and Matsumoto University in Nagano, a prefecture known for the longevity of its residents and their high intake of vegetables, and also with the Tokyo Metropolitan Institute for Geriatrics and Gerontology in Tokyo's Shibuya City. The findings were summarized in academic presentations and papers.
Based on these findings, we have started working with local companies to propose healthy dietary lifestyles for customers.
Effect of Hen's Egg Intake on Cognitive Function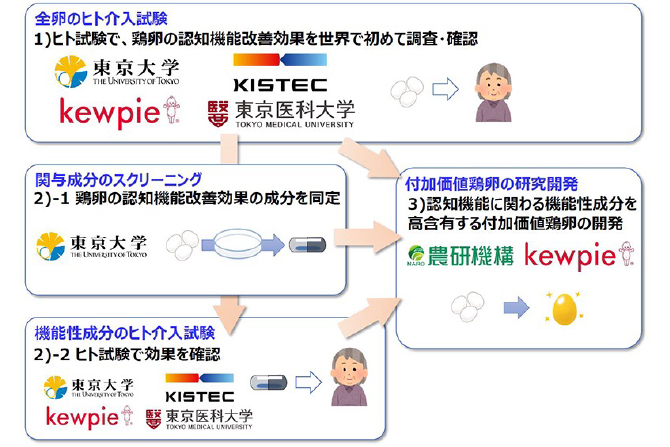 We applied for the "FY2021 Innovation Creation Enhancement Research Promotion Project"*1 offered by the Bio-oriented Technology Research Advancement Institution (hereafter "BRAIN"), and the project was awarded*2 under the title of "Research on hen's eggs' ability to improve cognitive function and development of value-added hen's eggs to expand the egg market." In the "Applied Research Stage" and alongside five other institutes,*3 Kewpie aims to clarify the effects of hen's eggs on cognitive function and jointly develop value-added eggs that contain high levels of these functional ingredients. The purpose of this project is to clarify the "cognitive function improvement effect" of hen's egg intake, to identify the components involved in this improvement, and to confirm the effect in human studies.
*1The R&D project is open to proposals and focuses on promoting R&D through the accumulation and utilization of knowledge to generate innovative technologies, products, and services that defy common wisdom.
*2Result of the review of the public solicitation for "FY2021 Innovation Creation Enhancement Research Promotion Project."
*3Collaborating research institutes: The University of Tokyo, Tokyo Medical University, Kanagawa Institute of Industrial Science and Technology, and National Agriculture and Food Research Organization (NARO)
Initiatives to Support Health of Individuals
Raising Awareness of the Importance of Chewing
In recent years, there has been an increase in the number of soft foods that require less chewing. Soft food reportedly causes a decline in the ability to chew, and the effects of this decline on the body may vary widely.* We are engaged in joint research with Lotte Co., Ltd. and Wayo Women's University to raise awareness of the importance of chewing. In 2022, we published a ranking table (in Japanese) that summarizes the results of our joint research on the number of chews typically done for each type of food.
*As an example of this effect, it has been reported that the higher the chewing ability, the lower the prevalence of diabetes.
Toru Y et al., Mastication and Risk for Diabetes in a Japanese Population: A Cross-Sectional Study. PLOS ONE(2013) Volume 8, Issue 6
Lecture Events Themed on Food
Communicating correct information about food and the importance and joy of food is one of our most crucial roles.
In our hope to contribute to healthy and enjoyable dietary habits, we send employees out to give lectures themed on food that provide correct information on diet and health.
We currently have three different programs; "The Appeal of Vegetables" features content designed to stimulate interest in those who attend by watching DVDs on vegetable nutrition and ideal intake as well as showing cooking methods that participants can put into practice in their everyday lives.
We've received comments such as, "I'll plan my meals with 350g of vegetables per day in mind," or "I learned about the broad appeal of vegetables and how to enjoy them at the dinner table," indicating that this program conveys the appeal of vegetables.
Nursing Care Events
In 1998, Kewpie released Japan's first retail nursing care foods. In 2005, Japan became the world's first super-aged society and the need for nursing care foods continues to rise.
We hold study sessions with professionals involved in the nursing care field as well as students to facilitate greater understanding of foods for the elderly and universal design foods. We also hold events for the general public.
Tamago Star In-house Certification System
In FY2019, we started the internal certification program "Tamago Star."
We will increase the number of people across the entire Kewpie Group who can talk about eggs, and we are aiming to become the "Leading Company for Eggs."
Tamago Star is accredited to those who have attended a study session for correctly communicating knowledge about eggs and have acquired 3-Star Tamarie certification (Nihon RangyoKyokai Association).
Going forward, those accredited will take on the role of awareness-raising activities to communicate the appeal of eggs, both inside and outside the company.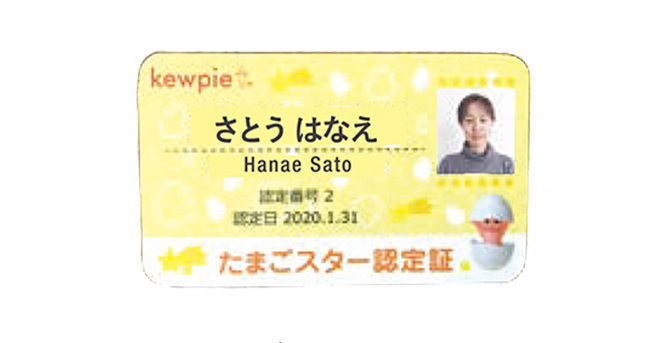 Tamago Star certificate
Egg White Paper
Conducted since 2017, the "Egg White Paper" is a research report analyzing perceptions, eating styles, and trends regarding eggs. We use the results of the questionnaire on what people find attractive about eggs and their favorite egg dishes to cultivate accurate knowledge about eggs and suggest ways to enjoy egg dishes.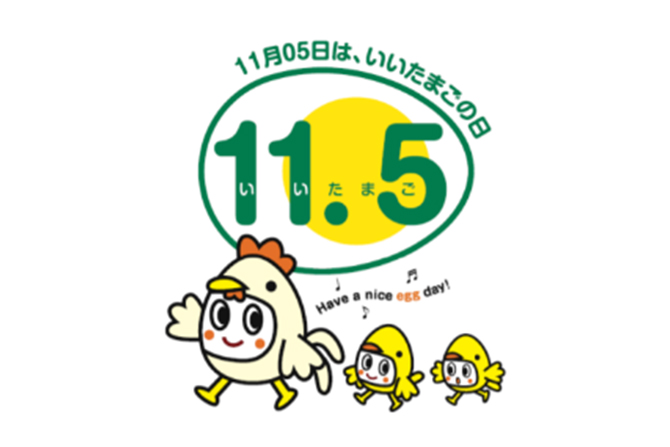 Health-Focused Products
The Kewpie Group has historically worked to spread what was then a new food culture of eating vegetables as salads. As such, the company grew hand-in-hand with the expansion of salad menus. Going forward, we will continue to research and develop products so that we can contribute to the diet and health of all generations as everyone's dietary partner.
Approved by the Ministry of Health, Labour and Welfare Food for Specified Health Uses
Kewpie Defe
Foods with Function Claims
Kewpie
Flaxseed Oil
Mayonnaise

Kewpie
Flaxseed Oil
Dressing

Kewpie
Fitte

Kewpie
Fitte
Dressing
Low Calorie and Reduced Sodium Products
Janef Non-Oil Dressing
Food Allergy Initiatives
In recent years food allergies have been on the rise in Japan and other developed countries, and we believe this is an important issue for food manufacturers to address. We are engaged in various efforts to enable more people to enjoy their food.
Product Labeling
In order to be read at a glance, Kewpie uses a summary design to indicate allergens that might be in products (seven items specified by regulations and 21 recommended for labeling) in addition to what is required by labeling regulations. Our baby-food products include labelling on the front listing use of seven highly critical or prevalent food allergens: eggs, dairy, wheat, shrimp, crab, buckwheat, and peanuts.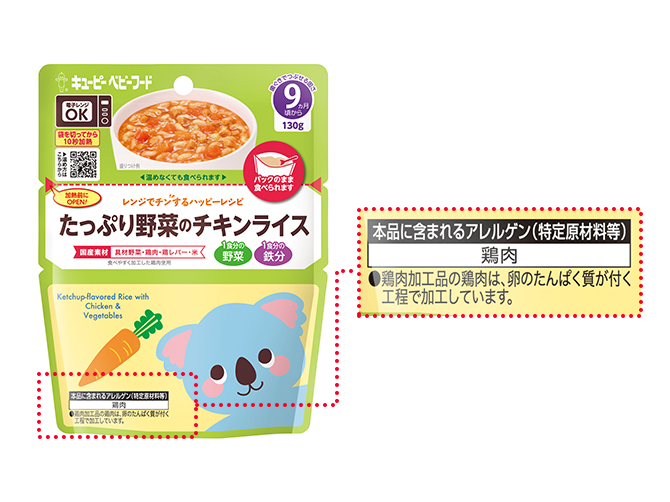 Baby Foods Free of Seven Common Food Allergens
We are developing baby foods that do not contain the seven common food allergens, using ingredients such as wheat-free soy sauce.
Egg-Free Mayonnaise-Type Condiments
In spring 2014, to cater to students with egg allergies Kewpie launched an egg-free mayonnaise-style condiment for commercial use in school meals. After it went on sale, we perceived a growing household need for such products and in February 2015 we launched an egg-free mayonnaise-type condiment on the consumer market. We will continue contributing to better diets by creating products that society needs.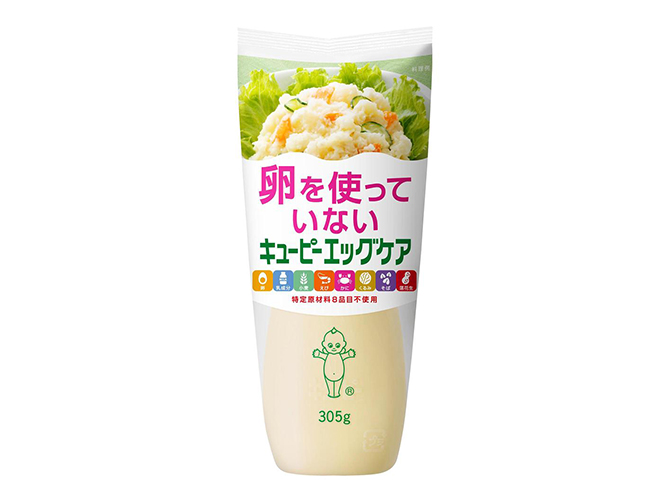 HOBOTAMA
To realize our ambition to deliver the great taste and properties of egg and support a bright future for children, we have developed the plant-based food product HOBOTAMA. This product can be a good substitute for those who cannot eat eggs for various reasons, including allergies.
Egg Allergy Research
Egg Allergy Prevention through Eating
Food allergies cause reactions such as hives and breathing difficulties, and egg allergy is thought to be especially common in babies. Previously it was thought that consumption of foods causing allergies should be avoided, but recent research* has revealed that starting to feed babies small amounts soon after they are weaned is an effective way of preventing the onset of allergies.
The Kewpie Group is working with specialist medical institutions to study ways of using less allergenic eggs created by heating, etc. and linking their use to safer diagnosis, treatment, and prevention of egg allergy. We will continue to support the discovery of new methods for diagnosis, treatment, and prevention.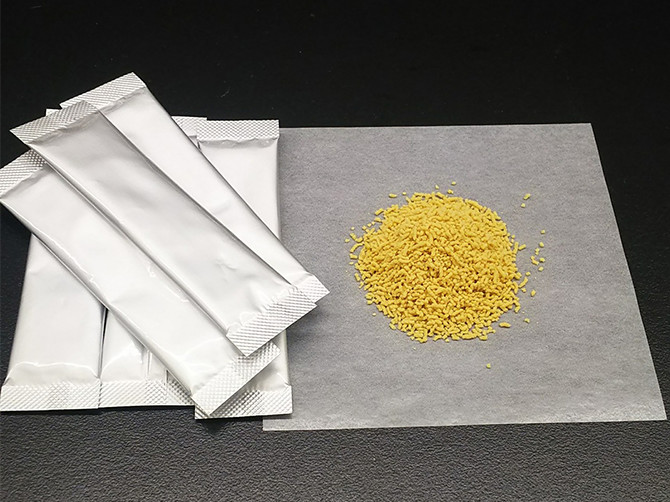 Less allergenic egg ingredients created by heat treatment.
*In 2016, the National Center for Child Health and Development presented the results of research on egg allergy prevention. A study of 121 infants suffering from atopic dermatitis showed that with proper skin treatment, the incidence of egg allergy at one year of age in babies that ate small quantities of powder made with heat-treated eggs from the age of six months was 8%, compared to 38% for babies that did not eat the powder, demonstrating the effectiveness of this technique.
Initiatives in Medicine
Kewpie's fine chemicals business provides a variety of food, cosmetics, and pharmaceutical products, including the acetic acid bacteria enzymes created as a result of our vinegar-related research as well as egg yolk lecithin and lysozyme. Researched for over 30 years, hyaluronic acid is a core material in the business, and Kewpie has the largest domestic sales volume according to the 2017 Fuji Economic Survey.
Kewpie is the only manufacturer in Japan that produces hyaluronic acid in two ways; extracting it from the rooster comb and through microbial fermentation. Making use of our strengths in molecular weight control technology and modification technology, we continue to provide technological support to satisfy the needs of our customers.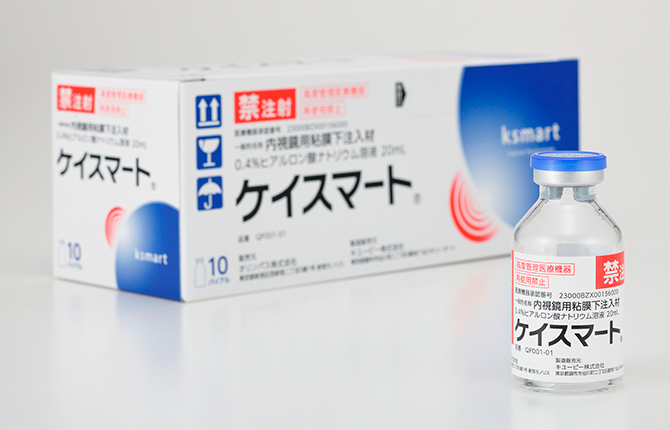 Kewpie's first medical device is K Smart, a submucosal injectable for endoscopic therapies
Kewpie's hyaluronic acid is used in a variety of pharmaceuticals, including as a material for agents improving joint function, and in medical eye drops. Using the manufacturing and quality control knowhow gained through these initiatives, Kewpie is developing a business focused on the planning and development of medical devices using hyaluronic acid.
Sodium hyaluronate is used in the endoscopic injectable material, which is a medical device used in endoscopic surgeries to remove cancerous lesions discovered at an early stage in the stomach, esophagus and colon before the cancer spreads beyond the mucosal layer of the gastrointestinal tract. The viscosity of the hyaluronic acid helps to separate the mucosal layer from the muscle layer and by maintaining that state assists in either improving detachment or resecting of the lesion. By helping to treat cancer in its early stages through the use of endoscopes, Kewpie is working to extend healthy life expectancy.
Kewpie also offers products that can be used the day before the test by those taking colorectal exams and visiting medical institutions.
Initiatives Toward Pre-Symptomatic Illnesses (Cancer Prevention)
Kewpie began research on preventing cancer through diet in 2013, and in 2018, began research to determine cancer risk.
By measuring a component called microRNA in the blood, we determine the risk of cancer and aim to realize disease prevention through dietary proposals that improve the expression of microRNA. To this end, we are currently working with YOKOHAMA National University and Tokyo Medical University on a project called "Technology Development Project on Next Generation Artificial Intelligence Evolving with Human Beings," which is led by the New Energy and Industrial Technology Development Organization (NEDO).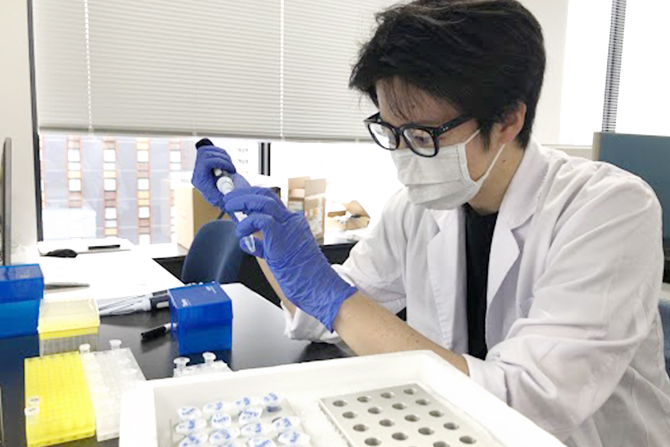 Contribution to Extending Healthy Life Expectancy Overseas
Through our overseas initiatives, we hope to contribute to people's health, in both body and mind, all over the world. By understanding each country's lifestyle and the history and culture of their diet, we strive to meet their needs and offer new tastes and culinary opportunities with the Kewpie Group's great taste, empathy, and uniqueness.
Development of Products that Align with the Food Culture of Each Country
The Kewpie Group aims to maintain the original taste of our Japanese mayonnaise while also focusing on developing condiments at our overseas locations that go well with local ingredients and dishes.
In China, we developed a sweet type of mayonnaise that goes well with fruit salads, and the product is now widely used. Furthermore, we also developed a dressing that goes well with a mixed vegetable dish commonly eaten in northern China. The product is now incredibly popular in Beijing.
In Malaysia, Indonesia and Thailand, we produce Halal certified products and sell them in the local markets and neighboring countries where food is increasingly becoming westernized.
In this way, we develop products that meet the needs of each country and offer great taste to people across the world.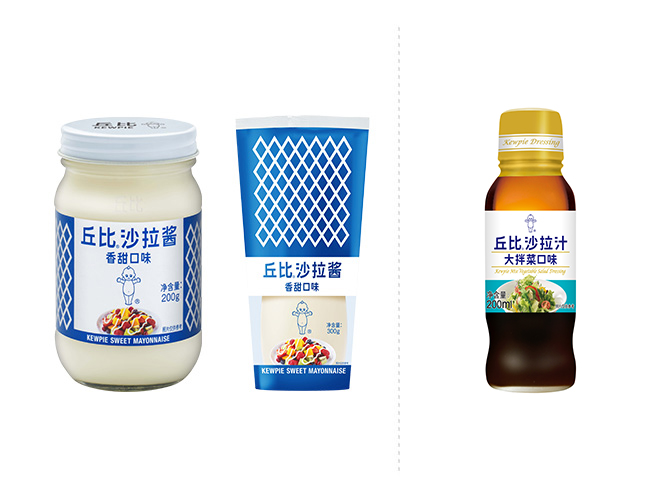 Left: Sweet Type Mayonnaise
Right: Mix Vegetable Salad Dressing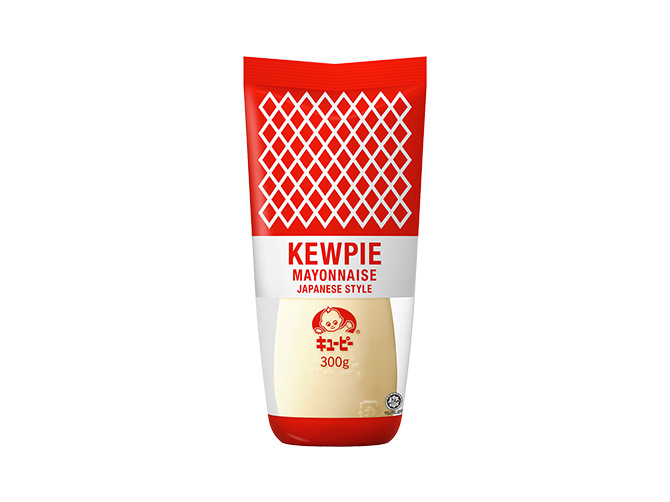 Kewpie Mayonnaise Japanese Style
(halal-certified)
Food and Health Awareness Activities in China
Health consciousness is growing in China as well as other countries. With the aim of contributing to diets and health in China, we are conducting health promotion activities in collaboration with partners including the Shanghai Society of Food Science, drawing on the results of research conducted in Japan and locally.
We have also started activities in the produce sections of stores to raise awareness of the health functions of vegetables and to draw attention to salads. Starting from Shanghai and Beijing, we are working to expand these activities across the country.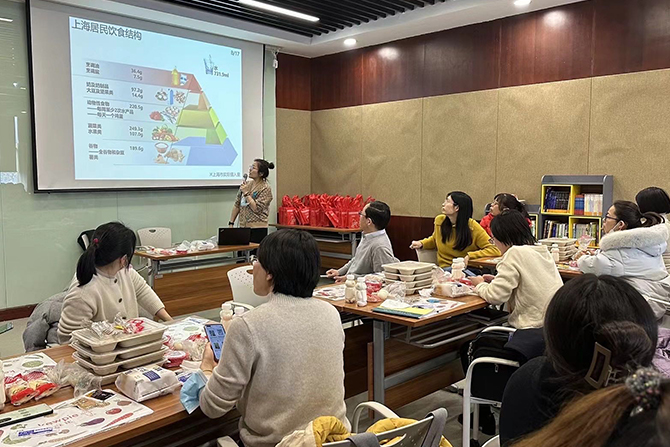 Food and Health Awareness Activities (Shanghai)