Baby Food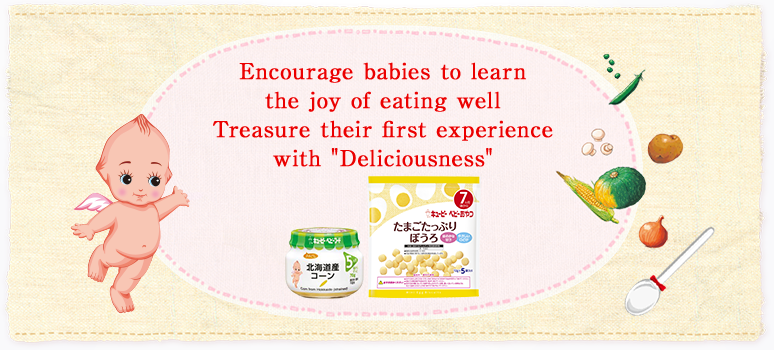 About Kewpie's Nurturing Baby Food
"Safety" for babies, "Peace of mind" for parents.
KEWPIE Baby Food was launched in 1960. Time flies, but some things will never change.
Since its release, we have made "quality first" our principle.
Putting the perspective of mothers and fathers into consideration, we make products with particular attention to deliciousness and nutritional balance.
In addition to the quality standards set by the Japanese government, the raw materials are carefully selected one by one using "Kewpie standards".
Your baby's first encounter with "good tasting food" is very important.
We would like your baby to know "joy of eating".
To develop your baby's sense of taste, it is necessary to experience various "deliciousness" in a well-balanced manner.
Therefore, we offer a variety of dishes that make use of the cooking know-how unique to our company, which has strong focus on delivering good meals to your dining table.
Through the "joy of eating", we help your baby grow.
Make good use of KEWPIE baby food and spend more time with your baby.
Kewpie wishes for healthy growth of your baby... just like every parent does.
Lineup
Jar
Even parents who start baby food can see the inside and feel safe.
It is easy to eat as it is and convenient for going out.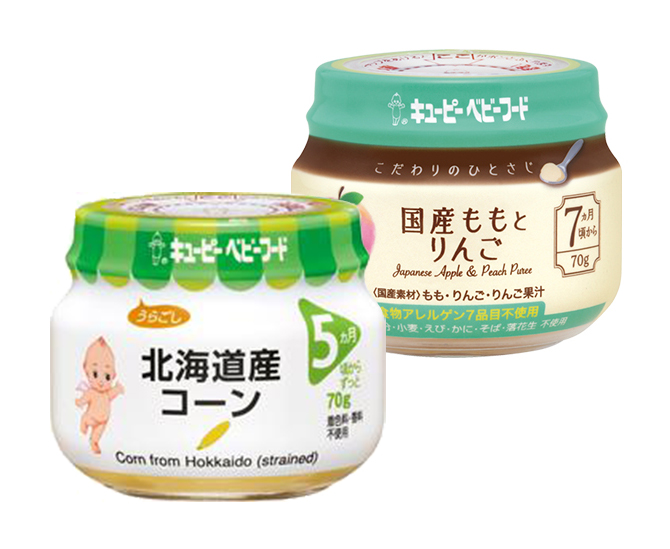 ◆ No artificial colors, preservatives or fragrances.
A wide variety of menu including vegetables, staple foods and fruits!
Gentle taste making great use of ingredients'natural flavor.
The size and hardness of the ingredients to match the growth of babies.

*No eggs, milk ingredients, wheat, shrimp, crab, buckwheat, peanuts.
Nico Nico Box
Assortment of popular baby food.
Comes in a cup container, convenient for going out.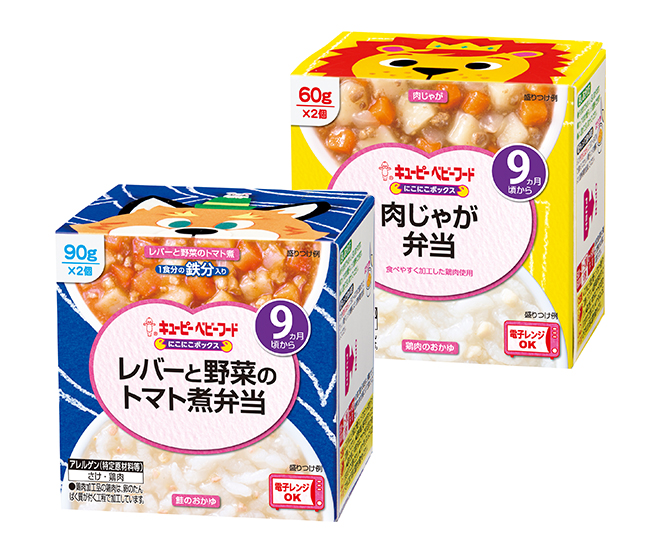 ◆ No artificial colors, preservatives or fragrances.
Chew and swallow together!
Mild taste like "baby food made at home". It's a set of staple food and a lot of ingredients.
Contains microwavable cups. You can eat it deliciously as it is.
The box can be used as a tray to hold two cups in one hand and as a puppet to encourage communication with babies.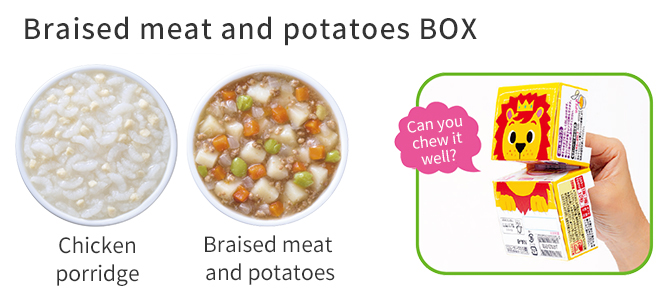 Smile cup
Baby food in cup container which is convenient for going out or at home.
◆ No artificial colors, preservatives or fragrances.
This is a series that is great for babies from around 9 months old and their parents who have more opportunities to go out.
You can microwave it as it is in the cup! Of course, you can eat it deliciously as it is.
The material is well balanced in one cup.
120g in a compact container.
Happy Recipes(Retortable pouched foods)
To help the development of babies' taste buds, we pursued to deliver good taste using both texture and flavor.
◆ No artificial colors, preservatives or fragrances.
Let's spread the joy of eating!
Choosing the right ingredients according to baby age , the size and hardness of the ingredients, and the flavor will help develop babies' tasting and chewing ability.
We have enriched the menu for babies above 12 months old such as "1 serving of vegetables" type and "Highly satiating" type.
Snacks
Delicious and fun snack with your family.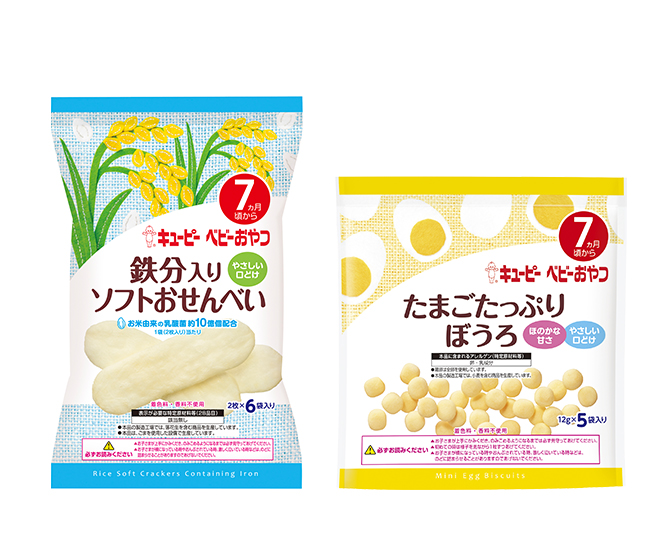 ◆ No artificial colors, preservatives or fragrances.
・At first, please let your baby drink water in his/her mouth to make it easier for him/her to swallow.
・Please give it with boiled water or barley tea.
Snacks play various roles necessary for babies' growth.
Preserving original taste of ingredients, it is devised to enjoy color and shape.
Easy-to-eat size and shape considering development of fingertips.
Items designed to supply calcium and iron, which tend to be insufficient due to the decrease in the number of breastfeeding, are also available according to baby age.
Baby Dessert
Baby dessert to encourage your baby to eat by himself/herself.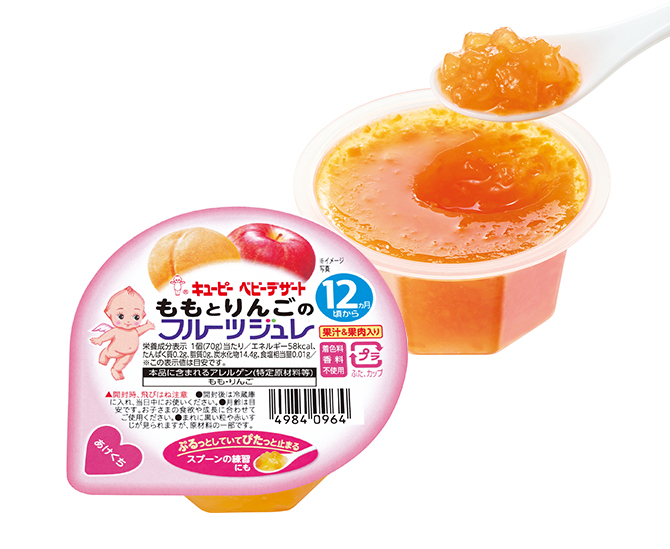 ◆ No artificial colors, preservatives or fragrances.
Easy-to-eat fruit jelly which contains fruit juice and pulp.
Mild taste utilizing natural sweetness, fragrance and color of fruits.
Contains not only fruit juice but also pulp of suitable size for baby age.
Made soft and easy for a baby to scoop and eat.
Contained in a cup container convenient for going out and easy to carry for babies.
They are baby food desserts using vegetables and fruits.
*Can be enjoyed at room temperature.
Question and Answer about KEWPIE baby food
How come KEWPIE Baby Food has a long shelf life if it doesn't contain any preservatives?
KEWPIE Baby Food has the indicated age group on the side of the container.
What is the difference between each product?
The flavour seems too strong.
Some ingredients differ from the kinds of food recommended in baby food books. Does this matter?
Does one container contain the right amount for one meal?
I'm concerned about the nutrition balance.
Downloads