Kewpie Group R&D

We aim to bring healthy and enjoyable diets and lifestyle to our customers around the world. We have our R&D at Sengawa Kewport in Chofu-shi, Tokyo, combining Kewpie Group companies' head offices and R&D functions. Sengawa Kewport is designed to facilitate lively communication across departments, and the Group's various divisions pool our own strengths to generate new product ideas and accelerate product development.
Kewpie Group's R&D Structure
Kewpie Group companies have their own R&D functions in Japan and overseas and share expertise and knowledge with Kewpie R&D Division in Sengawa Kewport to develop products and technologies.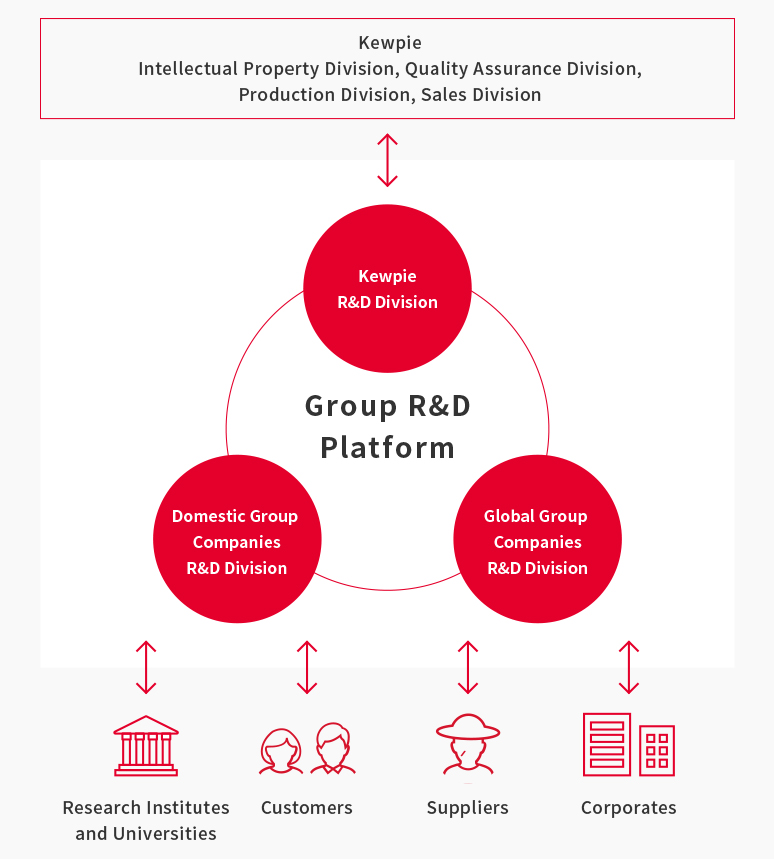 Organizational Structure of Kewpie R&D Division
The Kewpie R&D Division fosters collaboration between the Institute of Food Creation, which contributes to customers' everyday life by creating various benefits through product development, and the Institute of Technology Solutions, which generates technologies aimed at creating value for customers. These two research institutes are supported by the R&D Planning Department, which also supports collaboration among research centers in Japan and overseas as it undertakes R&D-related planning and collects and disseminates relevant information. As a center for open innovation, the Group R&D Planning Department also actively pursues collaboration with partners worldwide.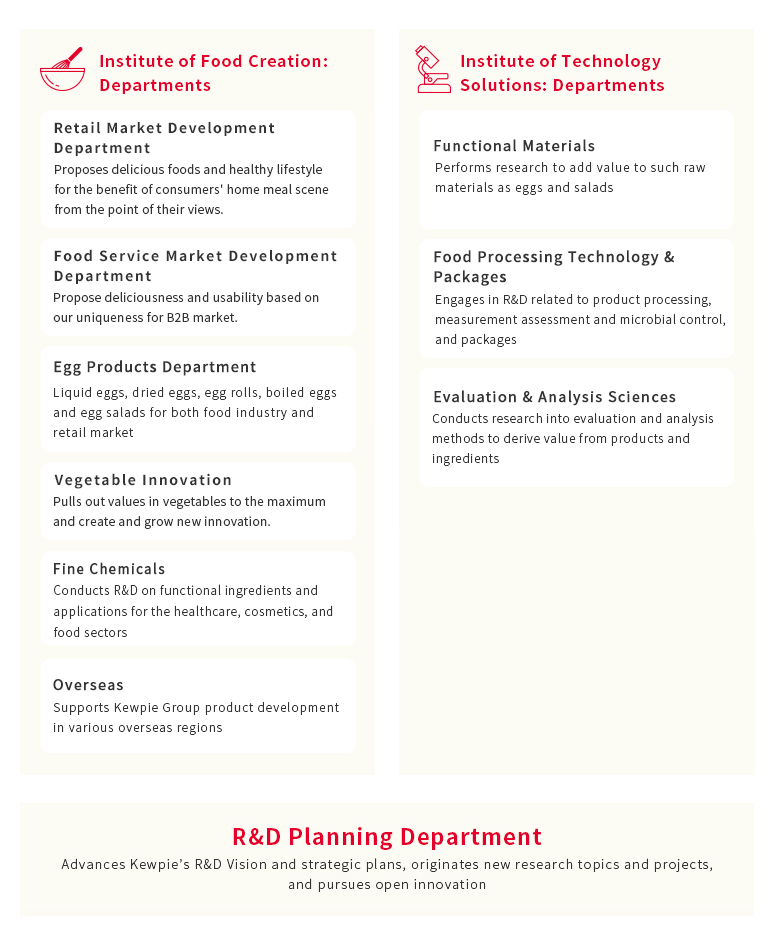 The Kewpie Group's Global R&D Bases
Operating R&D bases in China, Southeast Asia, America, and Europe, the Kewpie Group develops products tailored to customer needs in each region.
Technologies developed jointly with local research institutes, universities, and other organizations are not only used within those regions, but are shared and utilized worldwide.
In Japan, likewise, the Kewpie Group's individual companies conduct their own R&D, making the most of their respective strengths to develop products quickly. We are deploying a range of technologies across the Group by generating synergies through exchanges of technology and personnel.