More into
Vegetables
Kewpie delivers
all that
vegetables
have to offer
As a leading company in the salad market, we produce and sell not only mayonnaise and dressings, but also such prepared foods as potato salads and packaged salads. Accordingly, we also do profounder research into vegetables, salad's most essential ingredients.
When researching vegetables, "Farm to Table" is our motto. We approach vegetables from a number of different perspectives during the process from the raw ingredients stage through production and distribution until they reach our customer's dining table. We therefore work constantly on developing our technologies to supply safe, great-tasting products.
We also aim to make full use of all that vegetables have to offer without wastage. To that end, we invest effort in creating new values added to various parts of vegetables that might be left over after processing.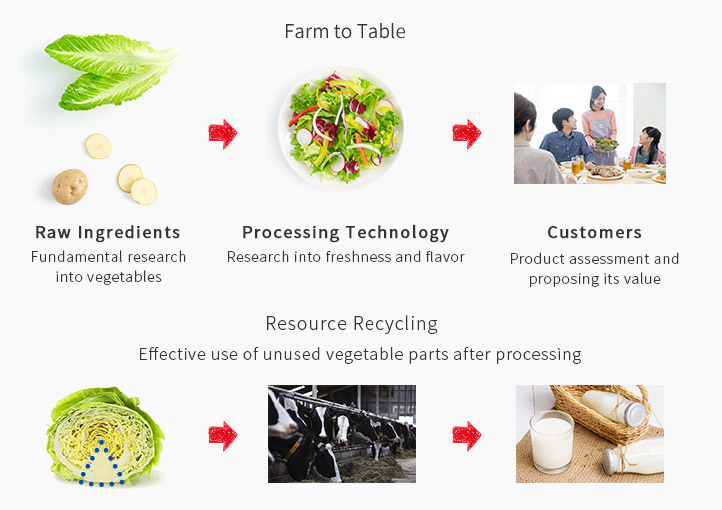 Associated Technologies
Technology for Grading Raw Ingredients
Smoothness is one of the elements that contributes to the great flavor of Kewpie's potato salad, and this smoothness is significantly affected by the type of potatoes used as raw ingredients. We therefore conduct research into identifying the best ingredients to ensure that we always deliver a reliably delicious flavor. (This technology was announced at the 63rd annual meeting of the Japanese Society for Food Science and Technology.)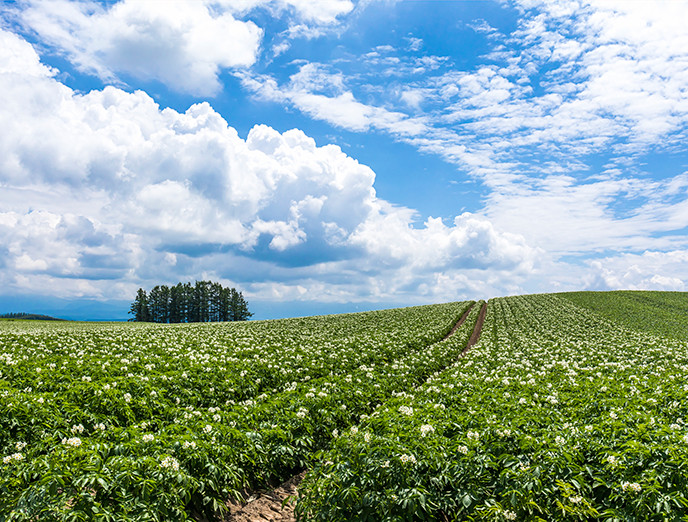 Technology for Preserving Freshness
Freshness is crucial for packaged salad. Accordingly, we are researching processing methods that keep salads as fresh as possible. We have obtained a patent for our "vegetable-friendly" manufacturing process, which takes advantage of vegetables' natural resistance to wash them without causing damage.
(Patent No. 4994524)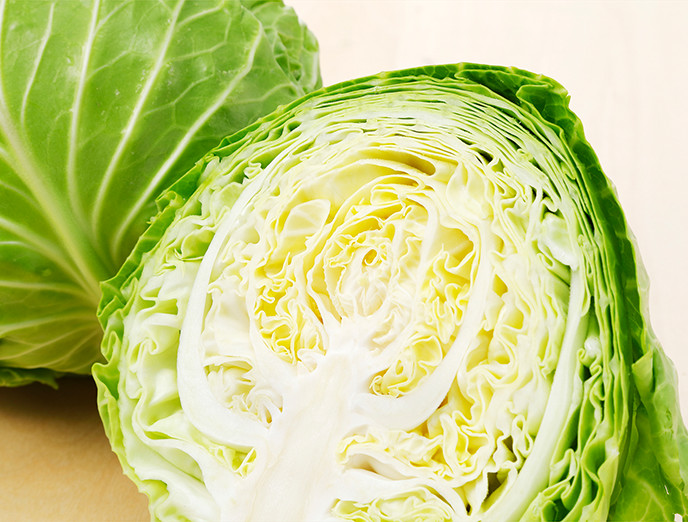 Using Leftover Vegetable Parts Effectively
As one technology for using up all leftover vegetable parts produced during processing, we collaborated with universities and experts on livestock feed to develop a method for lactic-fermentation of leftovers such as the outer leaves and cores, which are then mixed into dairy cattle feed.
(This technology was announced at the 124th meeting of the Japanese Society of Animal Science.)