Social Contribution Activities
Community Ties
The Kewpie Group cooperates with local governments to resolve community issues.
Initiatives with Yamagata Prefecture
With the aim of revitalizing the region and improving the quality of life of its citizens, Kewpie in February 2019 signed a comprehensive partnership agreement with Yamagata Prefecture focusing on promoting regional revitalization. The aim is to contribute to the Yamagata Sosei (Yamagata Creation) program through the effective use of the company's resources as well as those of the prefecture.
Content of the Agreement
1.

Matters related to the local production and consumption of Yamagata Prefecture agricultural products and the expansion of use

2.

Matters related to the promotion of health

3.

Matters related to the promotion of food education

4.

Matters related to efforts to alleviate childhood poverty

5.

Matters related to disaster prevention

6.

Other matters related to the promotion of the Yamagata Sosei program
Activities
・

Holding classes on mayonnaise in prefectural elementary schools

・

Carrying out "Less Salt, More Veggies" projects in collaboration with the delicatessen foods departments of local supermarkets

・

Distributing dressings and soup mixes to prefectural children's cafeterias
Shibuya Ward Initiatives
In December 2016 Kewpie signed a Shibuya Social Action Partner agreement with the municipal government of Shibuya Ward. The aim of this comprehensive partnership agreement is work together to resolve community issues. Through this agreement, we will cooperate with Shibuya Ward on new initiatives and foster greater harmony with the local community.
Content of the Agreement
1.

Support to provide food education and resolve child poverty

2.

Support in the health promotion domain in a super-aging society

3.

Research and proposal of solutions to issues in the environmental domain (including food wastage)

4.

Support provision, planning, and development of communication initiatives to promote cultural and artistic endeavors

5.

Support for research and educational activities to achieve diversity

6.

Personnel exchange as part of human resource development and training programs
Activities
・

Conducting a joint study with the Tokyo Metropolitan Geriatric Hospital and Institute of Gerontology on how much vegetables and proteins such as eggs, which prevent frailty, are consumed by Shibuya-ku residents

・

Holding online baby food classes for Shibuya-ku residents

・

Holding of "Shibuya Mottainai Market 2021"

・

Provided support for career education at municipal elementary schools
Initiative with the City of Hiroshima
With the aim of revitalizing the region and improving the quality of life of its citizens, Kewpie in March 2018 signed a comprehensive partnership agreement with the City of Hiroshima focusing on promoting regional revitalization. The parties will work together to promote initiatives that make the most effective use of the resources of Kewpie and the City of Hiroshima.
As part of the agreement, Kewpie and the City of Hiroshima will work together to promote the local production and consumption of six large leafy vegetables grown nearby, as well as to increase the daily intake volume of vegetables by the area residents.
As part of PR activities aimed at expanding the consumption of local agricultural products in the City of Hiroshima, Kewpie is promoting at mass retailer tastings and menu proposals so that customers can best enjoy the delicious seasonal vegetables.
Details of the Agreement
1.

Matters related to promoting local production and consumption

2.

Matters related to increasing the consumption of vegetables

3.

Matters related to improving health

4.

Matters related to the promotion of food education

5.

Matters related to disaster prevention
Activities
・

Proposed "Hiroshima Salad" combining local ingredients and protein in collaboration with Hiroshima Prefecture, Hiroshima City, and JA Zen-Noh Hiroshima
Hiroshima Prefecture Initiatives
Aohata Corporation entered into a comprehensive partnership agreement with the Hiroshima prefectural government in 2013. Under the partnership agreement it has engaged in a wide range of initiatives, including development of original local products (the Setouchi brand), tourism promotion, improvement of services for local residents, promotion of efforts to revitalize the regional economy, health promotion, food education, and enhancement of regional safety and security.
Content of the Agreement
1.

Promotion of the Setouchi brand and local products

2.

Tourism promotion and dissemination of prefectural government information

3.

Educational and cultural promotion

4.

Health promotion and food education

5.

Environmental measures and recycling

6.

Regional safety and security

7.

Support for people with disabilities

8.

Child-raising support

9.

Other efforts to enhance services for residents and invigorate regional society
Products registered under the Setouchi trademark
Activities
・

Providing food products to Hiroshima Prefecture's "Breakfast Promotion Model Project," which is organized by community volunteers who encourage elementary school children to gather before school and eat breakfast

・

Reviewing menus and providing food products to Hiroshima Prefecture's "1 Million Hiroshima School Lunch Project," which invites the public to submit school lunch menus unique to Hiroshima and prepares the menus that are selected
Initiatives in Fukushima Prefecture
Runs a social contribution program on the theme of "Smiles at Fukushima dinner tables!", which goes beyond existing "Mayonnaise Classes" to focus on building a cycle of local consumption of vegetables produced in Fukushima and using that cycle to create new eating scenarios.
Activities
・

Participating in the "Cucumber Harvest Grand Project" organized by JA ZEN-NOH FUKUSHIMA and holding online mayonnaise classes

・

Jointly developed the "Fukushima Health Support Menu" to promote public health in Fukushima Prefecture
Initiatives with Aichi Prefecture
Aichi Minna no Salad (Everyone's Salad) Project
Although Aichi Prefecture is one of the top prefectures in Japan in terms of agricultural production, its residents do not eat enough vegetables.
To tackle this issue and increase the amount of vegetable intake among Aichi Prefecture residents, we partnered with local governments and experts, established the Aichi Minna no Salad Project and set up an executive committee in August 2018.
Together with the project members, we came up with a dish called "Aichi Salad Rice Bowl," which combines three elements Aichi residents love: delicious flavors, a hearty serving, and an unexpected surprise. We are recommending the Aichi Salad Rice Bowl to restaurants across the prefecture.
As of the end of November 2020, over 110 restaurants support the project and 100 restaurants offer the dish.
Furthermore, for Vegetable Day in 2018 and 2019, we held events to raise recognition for the project, popularize the Aichi Salad Rice Bowl and make it a staple menu in restaurants. In 2020, we continued our dissemination efforts by using medias like television and radio.
We will support the people of Aichi Prefecture in their efforts to enjoy vegetables in their diet by expanding the menu to more restaurants and promoting the menu for use as part of ready-made and in-home meals.
Community Contribution Activities
As a member of local communities and international communities, we promote continuous community-based activities. Our employees actively take part in these initiatives with the aim to continuously engage in activities contributing to the local community.
Community Clean-up Activities
We carry out voluntary clean-up activities in the areas around all of our facilities. Kewpie employees also take part in regular clean-ups of local riversides and shopping precincts.
Aohata Corporation: Participation in the Adopt Program
The comprehensive partnership agreement signed between Aohata Corporation and Hiroshima Prefecture includes a promise to engage in "environmental measures and recycling" efforts. As part of the initiative, Aohata joined the prefecture's Road Adopt Program* in 2013 and was certified by Hiroshima Prefecture as a participating organization. The company has been engaged in the project's activities ever since.
Aohata's main office is located on the prefectural road (Higashi-Hiroshima Hongo Tadanoumi Line) in front of Tadano-Umi Station. The company conducts cleanup activities along the road around five to six times a year. The road is marked by a board inscribed with "Aohata Corporation."
Although the cleanup members don't find much trash, those that they do find empty cans, plastic bags and cigarette butts. In addition to picking up trash, they also pull weeds growing on the sidewalk.
People passing by greet the members and thank them for their work, which shows that the initiative is strengthening the company's bond with the local community.
Aohata plans to continue engaging in Adopt Program activities so that its members and community residents alike can enjoy clean roads.
* The Adopt Program allows residents and organizations to adopt sections of public areas and take loving care of them (such as by cleaning and weeding) as if caring for adopted children.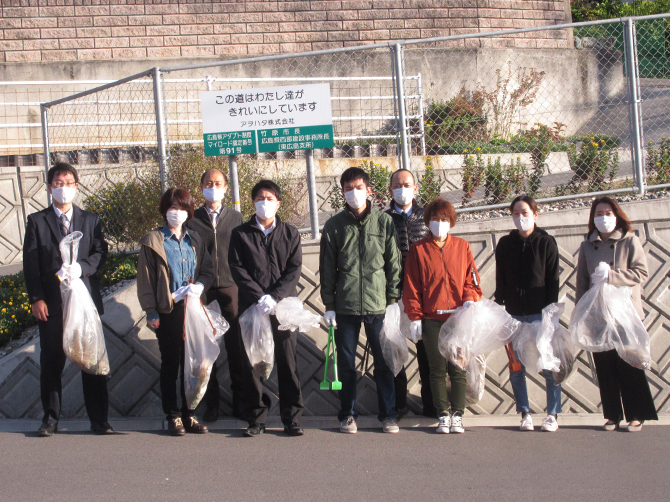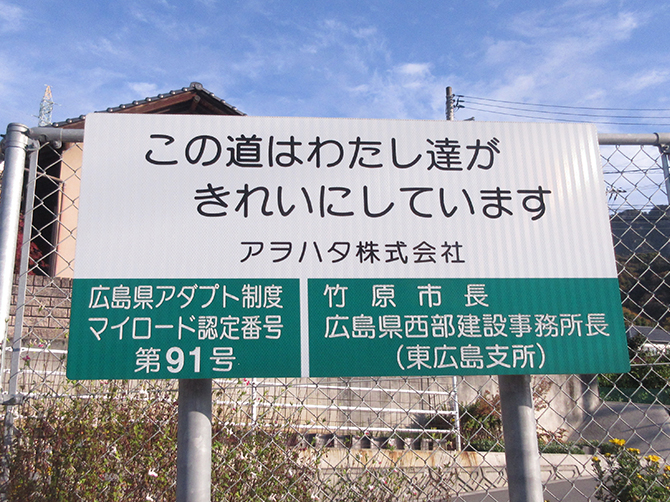 Regional Contribution Activities by Overseas Group Companies
At Kewpie Thailand (KEWPIE (THAILAND) CO., LTD.), 2% of profits are budgeted for carrying out activities along the three themes of "the Environment," "Community Contribution" and "Support for Children." This is also in line with the corporate policy of the Saha Group, our local joint venture. For environmental activities, we are reducing environmental impact by operating solar power systems, recycling water, and promoting the use of biomass fuels, as well as continuously implementing tree-planting activities to retain sources of water (FY 2021: 20,000 trees). In terms of community contributions, we are supporting medical facilities in the fight against COVID-19 by providing medical equipment, masks and dust-free garments. We also support neighboring communities by distributing alcohol disinfectants. Furthermore, we are continuing initiatives to compost waste residue and distribute them to local residents. In terms of educational support, we provide tuition aid to children of our employees. We also support nearby elementary schools by remodeling their libraries and playground equipment as well as installing and maintaining sanitary facilities such as drinking water.
Medical equipment support to medical facilities
Providing neighboring communities with alcohol disinfectants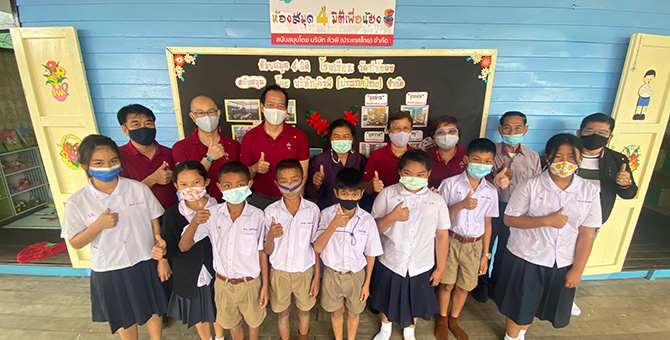 Library remodeling support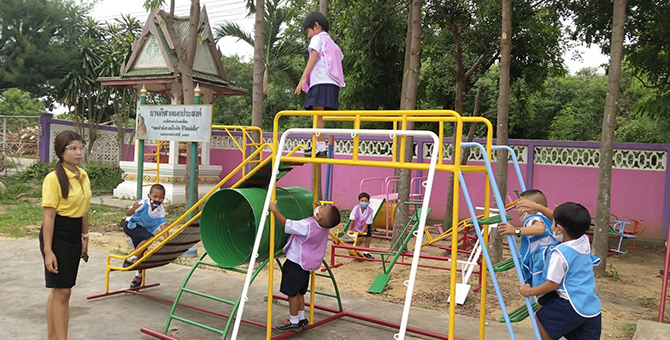 Improved playground equipment at an elementary school
Cultural Contribution
Through art and cultural activities such as song and dance, we will continue to support a happy and healthy lifestyle for all ages.
Mothers' Chorus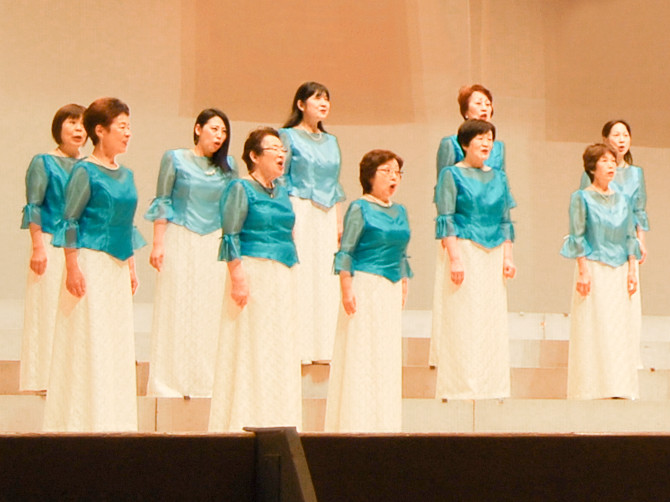 Kewpie cosponsors the JCA Mothers' Chorus Festival (organized by the Japan Choral Association [JCA] and the Asahi Shimbun Company) and the Okinawa Mothers' Chorus Festival (organized by the Okinawa Mothers' Chorus Association and the Ryukyu Shimpo Co., Ltd.). These festivals give mothers who are usually busy with chores and work the opportunity to enjoy singing in choirs. We support mothers who ensure the health and happiness of their families.
JCA Mothers' Chorus Festival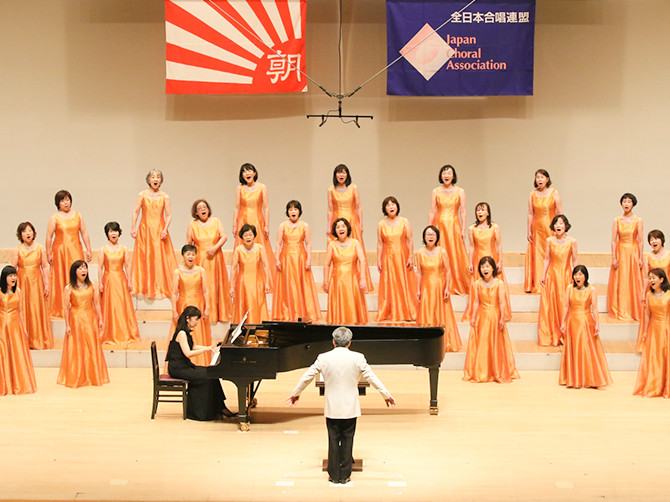 Each year around 20,000 singers from some 900 choirs take part in regional festivals around Japan. About 60 choirs are selected to attend a national festival held in a major city, where they showcase the results of their regular practice. This provides an unparalleled performance forum for mothers' chorus enthusiasts.
History of the Mothers' Chorus Festival
This event dates back to 1978, when JCA and the Asahi Shimbun organized the 1st Mothers' Chorus Festival based on the belief of Mr. Kan Ishii, who was JCA President at the time, that mothers needed knowledge of the arts to create healthy households.
Around 10,000 singers from 232 choirs took part in qualifying rounds for the first festival, and 25 choirs performed to great acclaim at the national festival held in Toranomon Hall in Tokyo. The number of choirs participating has since grown steadily, to the point where some 20,000 singers from about 900 choirs now take part in regional festivals held between March and July each year.
Although the National Convention was canceled in 2020 and 2021 to prevent the spread of coronavirus, the "Virtual Mothers' Chorus" (in 2020) and "Mothers' Chorus Online Festival 2021" (in 2021) were held using digital technology.
Okinawa Mothers' Chorus Festival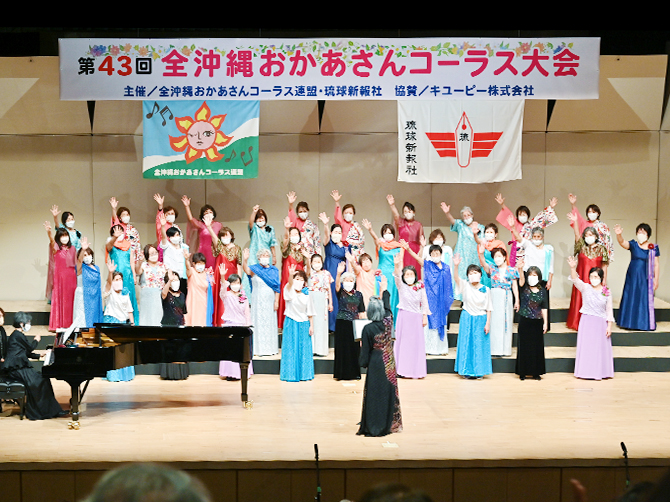 The origins of the Okinawa Mothers' Chorus Festival date back to an event held in 1979 to promote "the joy of singing." Initially it was a small gathering where singers stepped down from the stage after performing to sit in the audience and listen to the next choir. As time went by, the concept spread throughout Okinawa and grew into a splendid cultural activity that brings together lovers of choral music. Its popularity has been boosted by the rising standards of the choirs performing and the inclusion of many Okinawan songs.
History of the Okinawa Mothers' Chorus Festival
Thinking that if there was a mothers' volleyball league it was only proper to have a mothers' chorus festival, the late Mr. Asataro Nakasato, who was the first president of the Okinawa Mothers' Chorus Association, joined with former advisor Mr. Yokichi Hatoma, former president Ms. Yuki Niijima, and Ms. Tamiko Shibata, a resident of Hyogo Prefecture, to take the lead in organizing a social recital by five choirs in the Naha central community center on February 14, 1979, and this formed the basis of today's Okinawa Mothers' Chorus Festival. The following year they invited then-JCA President Mr. Kan Ishii to attend the 1st Okinawa Mothers' Chorus Festival, held in Ryukyu Shimpo Hall on March 1, 1980, which was a significant first step towards establishing an ongoing event. Since then, the scope of participation has spread from Naha throughout Okinawa, and the association now holds regular choral lessons and conductors' courses to give something back to participating choirs, and is working to build a more cohesive organization and polish performance techniques.
All-Japan Elementary and Junior-High School Student Dance Competition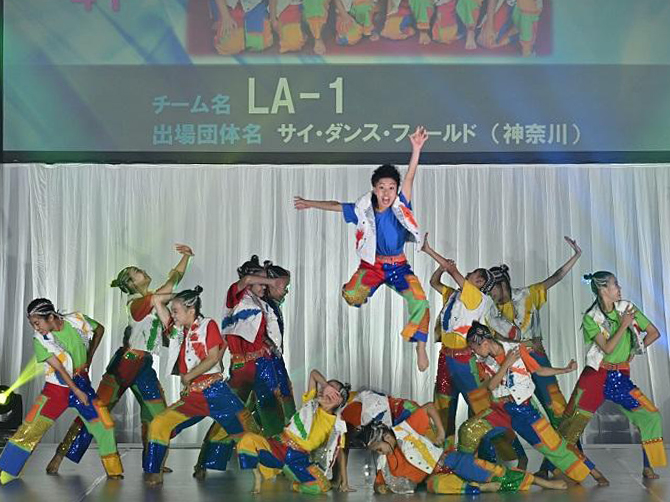 Kewpie also co-sponsors the All-Japan Elementary and Junior-High School Student Dance Competition (organized by the Asahi Shimbun Company).
Rhythm dance has been incorporated into school education and club activities in elementary and junior high schools and has shown great promise as a tool for developing students' rhythm, self-expression, creativity, and communication skills, as well as physical fitness. Kewpie will continue to support the healthy growth of children who work hard at their dancing through food, a source of energy.
History of the Japan Dance Concours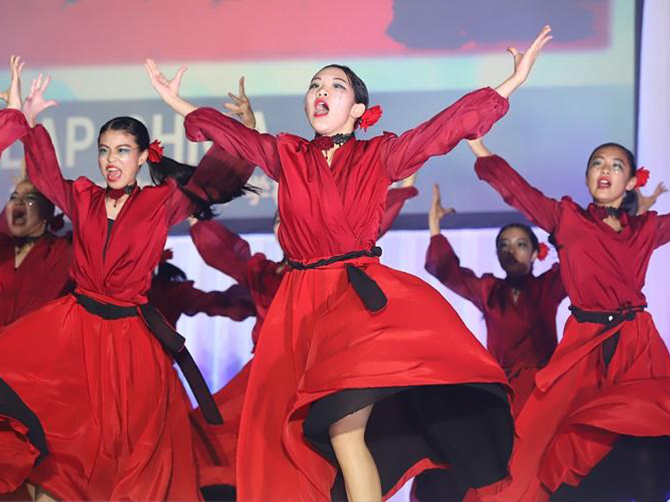 In 2014, the scale of the competition expanded with the creation of block competitions (East and West Japan) and a national competition. It is now one of the largest dance competitions in Japan, with a total of over 3,600 elementary and junior high school students participating in the four block competitions and the national competition.
In 2020, all competitions were canceled to prevent the spread of coronavirus, and an online dance presentation was held for the first time. In 2021, the block competitions were again canceled but an online presentation and national competition with representative teams selected through video judging were held.
Education Support Activities
As part of its educational support activities, Aohata Corporation delivers presentations and lectures and runs jam-making training in high schools and universities, as well as accepting student interns to provide them with a better understanding of the importance and challenges of work. Donations from Aohata have also formed the basis for establishing the Aohata Scholarship Fund in Takehara, Hiroshima Prefecture, where the company's head office is located. This grant scheme awards scholarships to two new students each year.
Kewpie and Kewpie Egg Corporation have been holding "Egg Seminars" for general consumers at supermarkets and sports gyms since 2017. The seminars aim to spread awareness of the nutritional value and health function of eggs. We also publish the "Egg White Paper," which summarizes survey results on public egg perception, ways of eating eggs and an analysis of trends. Our goal is to provide readers with correct egg information and recommend fun ways of enjoying egg dishes.
Donation Lecture
Kewpie Research Division for Egg Innovation, Tokyo University of Agriculture
Joint Research Lecture
Kewpie and Tokyo Kasei University Egg Delicacy Research Institute
QPeace Donation-Matching Scheme
The Kewpie Group introduced the QPeace donation-matching scheme in fiscal 2008 to encourage employees to donate to organizations addressing social issues. Recipient organizations are nominated by employees and decided by a selection committee made up of volunteers. In fiscal 2019 about 629 employees from 25 group companies participated in the scheme and donated to 14 social and environmental organizations dealing with children, the environment, and food. The scheme provides an opportunity for employees to take a greater interest in social issues.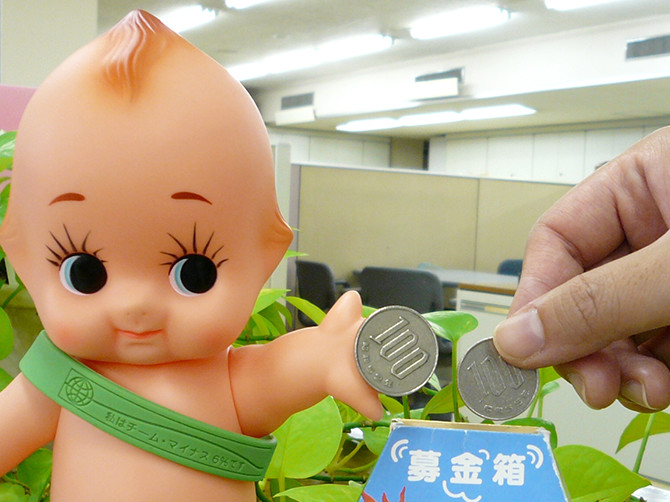 How the QPeace Scheme Works
1.

Employees nominate organizations they would like to support. Project members, who are employee volunteers, screen nominations and select recipients with the assistance of the secretariat.

2.

Employees wishing to participate have donations deducted from their monthly remuneration in 100-yen units, and these donations go into the QPeace reserve.

3.

The company matches the sum of donations in the reserve.

4.

Donations are sent to each social/environmental organization.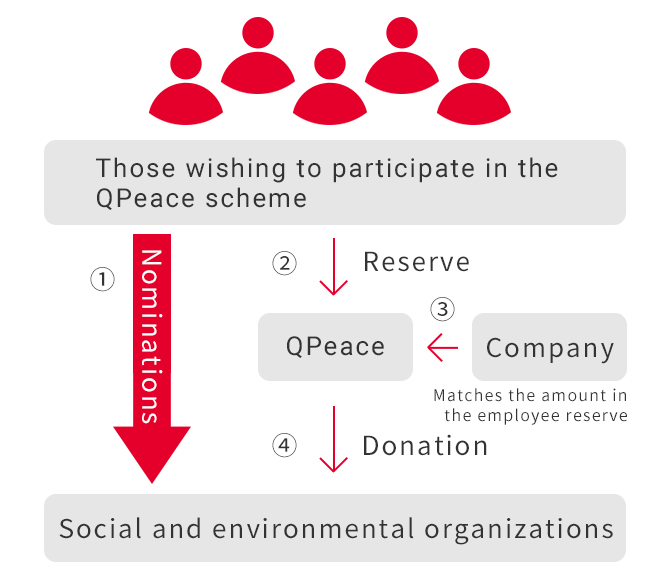 Ecocap Movement
Since 2015, Kewpie Ai Co., Ltd. has been amassing the plastic bottle caps collected at Kewpie Group offices in Tokyo and handing them over to NPOs as Ecocaps to support vaccinations in developing countries.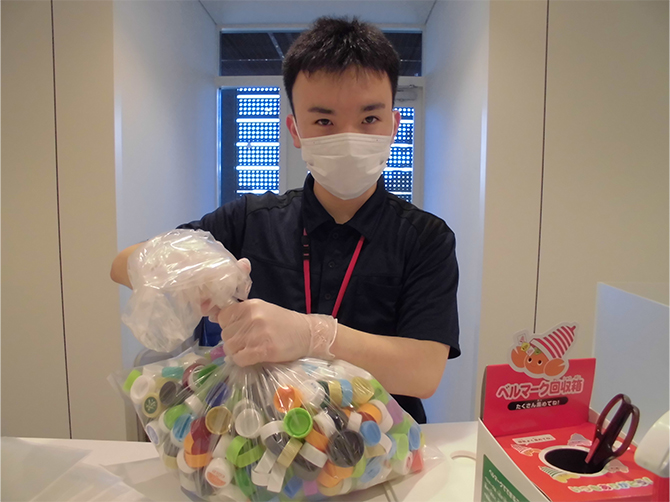 FY2021 Collection Results
| Weight: | Number of caps: | Donations received: | Number of people vaccinated: | CO2 equivalent: |
| --- | --- | --- | --- | --- |
| 230.42kg | 99,078 | 2,302 yen | 115.1 | 725.82kg-CO2 |
School Uniform Reuse Activity
Since 2020, we have been participating in the "School Uniform Reuse Shop Sakuraya" for families and children who cannot afford to buy school uniforms and school supplies.
In FY2021, the Kewpie Group set up collection boxes at the Sengawa Kewport and Shibuya offices for a limited time to collect uniforms.