Sustainable Use of Water Resources
Approach to Sustainable Use of Water Resources
Water is the essential resource for human life and various manufacturing processes.
Meanwhile, we use a large amount of water to clean or cool agricultural raw materials in our manufacturing processes.
To continue our business, we consider water as a vital and limited resource, ensure its effective use, and reduce the environmental impact when collecting and discarding water.
Water Risk and Water Stress Assessments
To determine the impacts of water risk on Kewpie Group operations, we assess water stress (water demand vulnerability) using the Aqueduct tools of the World Resources Institute.
The risk of inundation from flooding and storm surges in Japan is assessed using hazard maps, and risks in countries other than Japan are assessed using Aqueduct.
| | Number of plants | Flood risk | Storm surge risk | Water stress |
| --- | --- | --- | --- | --- |
| Japan | 71 | 26 | 4 | 0 |
| China | 4 | 1 | 2 | 1 |
| Asia | 4 | 2 | 1 | 0 |
| U.S. and Europe | 2 | 0 | 0 | 1 |
●Based on hazard maps ●Based on Aqueduct
Effective Use of Water
We, the Kewpie Group, are committed to the improvement of our production methods, effective use of water, and reduction in overall water usage.
Our manufacturing plants consumed a total of 8,075,000 m3 of water in FY2022.
Water usage per tonne of production (water usage per unit) was 10.6 m3.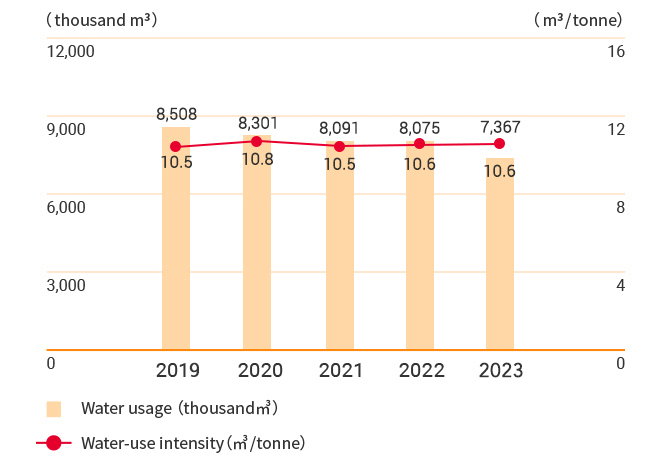 Water Conservation Initiatives
The Kewpie Group has introduced advanced wastewater treatment systems to conserve water as part of its efforts to create factories designed with people and the environment in mind.
Use of Highly Treated Water
As part of water-saving activities in production processes, the Deria Foods Group uses visualization and digitization to ascertain water consumption, analyzes key factors, and takes actions to minimize the amount of water used.
In addition, the Shunsai Deli Co., Ltd. Akishima Plant has introduced a facility utilizing membrane treatment (reverse osmosis) technology to reuse wastewater from the production line, generating an average of 160 tons of clean water from wastewater per day. Some of the uses of that water include watering trees, cleaning floors, sprinkling roofs, and the outdoor cooling units of air conditioning equipment.

Reverse Osmosis (RO) Filtration Equipment
Effective Use of Cooling Water
At Kewpie Jyozo Co., Ltd., cooling water used during vinegar production is not discharged directly from the plant, but used as cooling water at different temperatures to reduce the amount of cooling water used.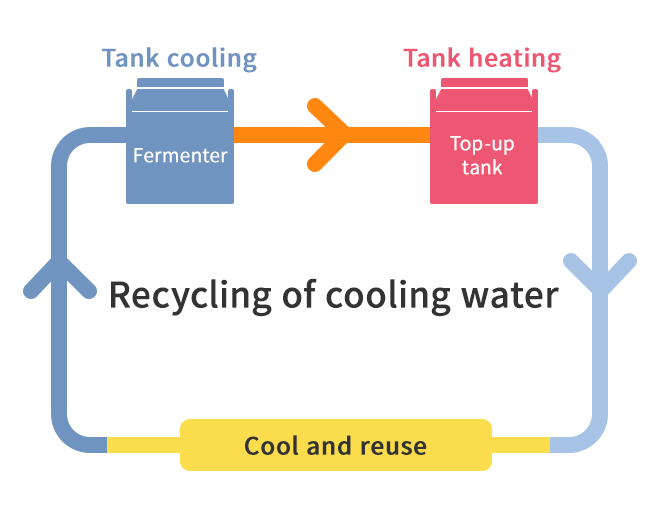 Controlling Excess Water Use
For Salad Club products, we have changed processes for cleaning cut vegetables from using a constant stream, to applying water only when needed, and we are more carefully controlling the amount applied in order to reduce water consumption.