Sustainable Use of Water Resources
Approach to Sustainable Use of Water Resources
Water is the essential resource for human life and various manufacturing processes.
Meanwhile, we use a large amount of water to clean or cool agricultural raw materials in our manufacturing processes.
To continue our business, we consider water as a vital and limited resource, ensure its effective use, and reduce the environmental impact when collecting and discarding water.
Water Risk Assessments
In order to verify the impact of water risk, we adapt "AQUEDUCT" from the World Resources Institute (WRI) and conduct local hearings at all production plants of the Kewpie Group.
Effective Use of Water
We, the Kewpie Group, are committed to the improvement of our production methods, effective use of water, and reduction in overall water usage.
Our manufacturing plants consumed a total of 8,091,000 m3 of water in FY2021.
Water usage per tonne of production (water usage per unit) was 10.5 m3.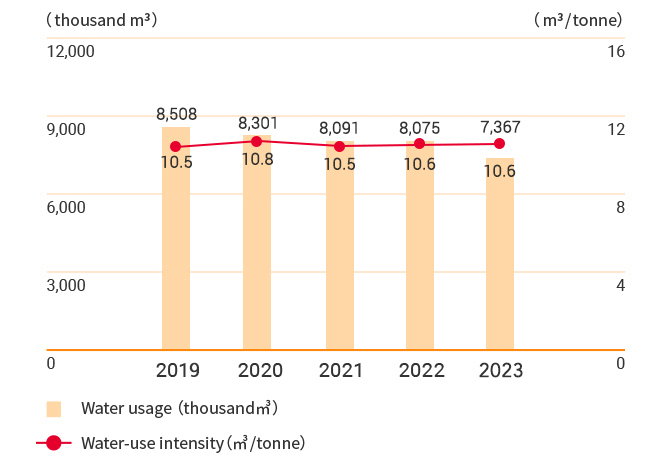 Use of Highly Treated Water
In newly built plants, as part of our efforts to build human-friendly and environmentally-friendly factories, we are engaging in water conservation with the introduction of advanced waste water treatment equipment.
Shunsai Deli Akishima Plant
Shunsai Deli's Akishima Plant, which began production in November 2012, has introduced equipment that uses membrane process (reverse osmosis) technology for recycling waste water from the production line. This equipment produces an average of 160 tonnes of pure water a day, which is used in various ways around the plant, including in the toilets, to water the trees in the factory grounds, wash the factory floors, spray onto the factory roof, and to cool the outdoor units of the air-conditioning system.
*Started in November 2012

Reverse Osmosis (RO) Filtration Equipment
Kewpie Egg Corporation Hanno Plant
At Kewpie Egg Corporation's Hanno Plant, which began production in March 2015, treated water from hollow-fiber membrane treatment equipment is purified with activated charcoal and reverse osmosis membranes, before being re-used for toilet flushing and cooling the outdoor units of the plant's freezers. The plant plans to expand the range of the reclaimed water's re-use as an energy-saving measure for its freezer outdoor units.
*Started in March 2015
Hollow fiber membrane module unit
Hollow fiber membrane module unit (air diffusion)
Activated charcoal tower
Reverse osmosis membrane unit