Risk Management
At the Kewpie Group, we recognize uncertainty that results in losses to business as risk. In order to realize Kewpie's ideal 2030 vision, we are working on risk management and addressing risks that may interfere with our vision.
Priority Risk Assessment and Selection
Looking broadly at the changes to the business environment both inside and outside the company, we have identified what kind of risks exist and what potential risks may manifest in the future, then determined which risks are most significant. Risks were assessed based on two focal points, "Degree of effect on management" and "Degree of management control," then selected and prioritized as required.
Regardless of the scale of impact on business, risks with insufficient management control were identified as "Main company-wide risks" that must be prioritized, and we are working to reduce these risks as part of a company-wide project.
If the level of impact on business remains high despite increased management control, then we verify the risk status using audits and other measures ("Countermeasure status monitoring" in the upper left corner of the figure below). Meanwhile, we collect highly sensitive information from outside the company to monitor risks that currently do not pose problems for management even if measures have not been taken because of their low impact on business, as these may have a significant impact on business in the future due to environmental changes ("Information Monitoring" in the lower right corner of the figure below). In this way, we strive to be perceptive as we confront risk, monitoring the situation both inside and outside the company and making timely assessments of the significance of risk as conditions change.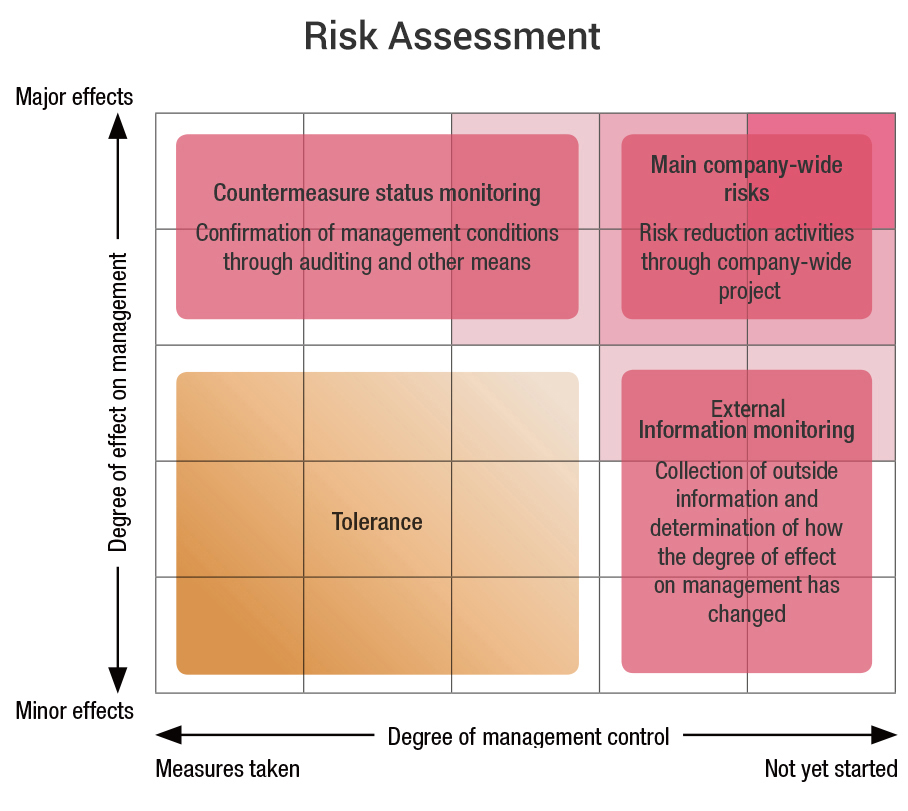 Risk Management System
The Kewpie Group recognizes events with the potential to affect the continued and stable development of management as risks and strives to enhance internal controls through the practice of risk management.
In recognizing risks, we assess the potential of actual risks occurring in accordance with the magnitude of impact and degree of control, and select risk items that must be addressed. Each department in charge continuously monitors individual risks, while the Risk Management Committee shares information related to risk factors that affect the Company as a whole to comprehensively manage the evaluation and prioritization of such risks, and formulate countermeasures. Specifically, we have positioned the following eight items as major risks and are working to manage and avoid them.
・Market developments
・Product liability
・COVID-19
・Overseas expansion
・Procurement of principal ingredients
・Natural disasters and other such contingencies
・Human resources and labor-related
・Global environmental issues
The Director in charge of risk management regularly reports Company-wide risk assessments and the status of response policies to the Board of Directors.
*Comprised of the Kewpie Management Council, major headquarters, and major consolidated subsidiaries, the Risk Management Committee is the highest decision-making body for risk management in the Kewpie Group and is held three times a year.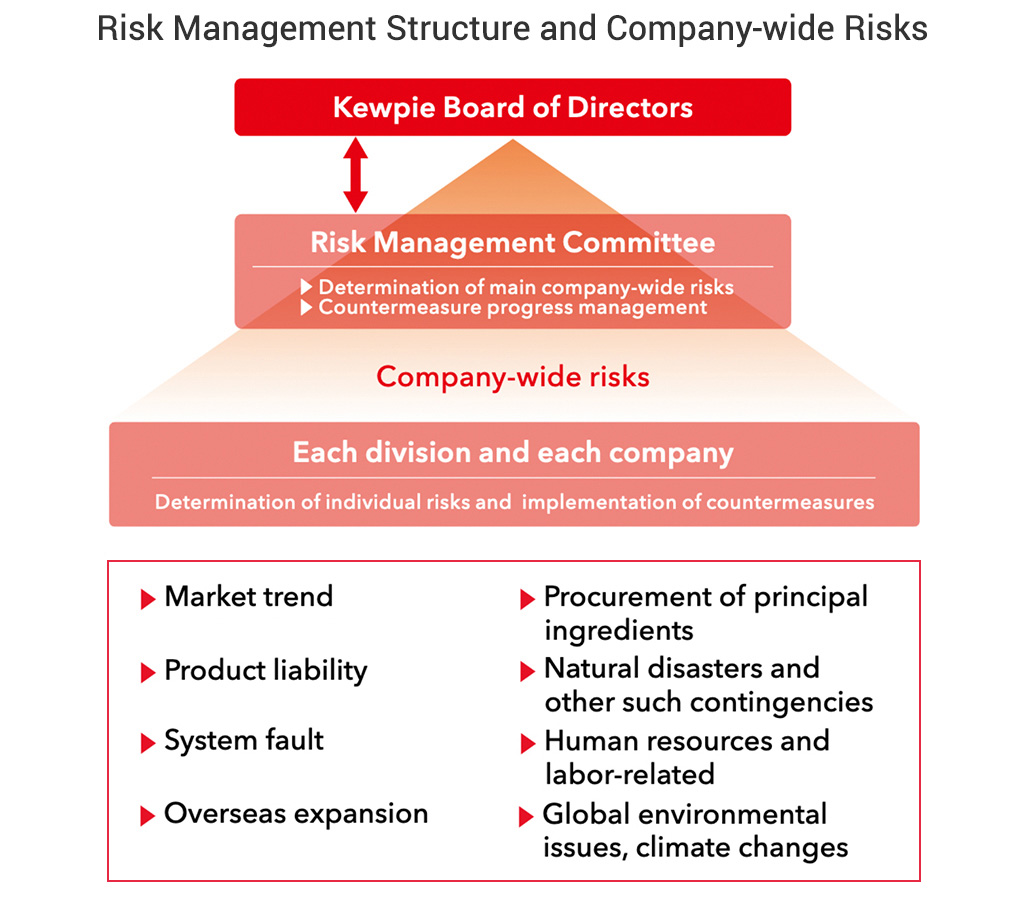 Main risk management activities
Risk Reduction For Overseas Development: "Internal Control Promotion Project" at Overseas Group Companies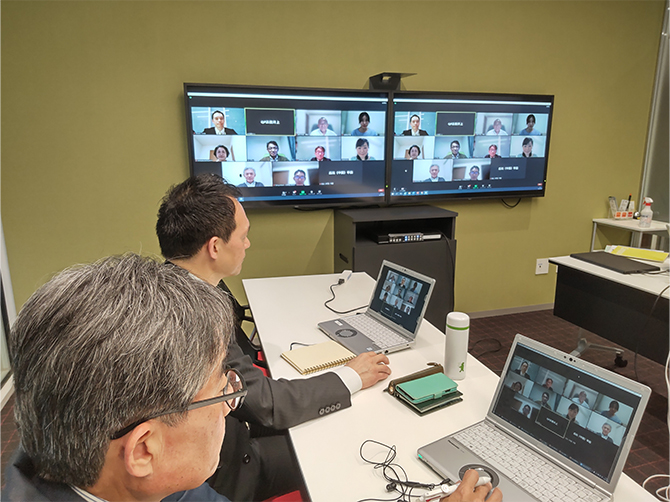 Training for members at Overseas Group Companies
We strive to create a safe working environment for employees working at Kewpie Group's overseas offices as well as engage in activities that contribute to the growth and development of the Kewpie Group.
We have been working on the Internal Control Promotion Project (consisting of the legal, finance, human resource, IT, intellectual property, risk management, internal auditing, overseas business, and other departments) to establish internal controls that serve as the foundation of our operations (governance, compliance, and risk management). So far, this project has developed an anti-corruption program and a business continuity plan (BCP) consistent across our domestic and international offices in the event of a crisis, and has also provided training for members at our Overseas Group Companies.
We will continue to promote our governance system in the future while sharing this project's achievements and schedules with our Overseas Group Companies.
Handling measures for unpredictable situations such as natural disasters Business continuity plan (BCP)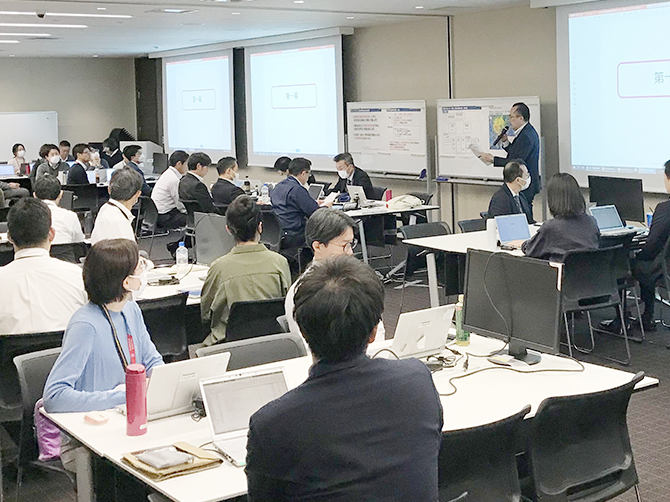 Product supply training
Drawing on past experience with disaster, pandemics, and other crises, we have created a business continuity plan and measures across the Kewpie Group to be used in the event of a crisis.
In preparation for a crisis, we have taken steps such as to maintain a system that enables the functions of the Tokyo headquarters to be transferred to Kansai; establish an emergency communication network and stockpile supplies; reinforce production and logistics facilities, establish a system to verify production in case of unforeseen circumstances; create backup facilities for production, procurement, and ordering functions for our major products; shift to a nationwide telecommuting system; and create manuals for all kinds of unforeseen circumstances.
We also conduct large-scale disaster response drills to ensure these will be reliably carried out (first response training, product supply training, safety ascertainment training).
These activities will help lead to appropriate first response, swift recovery and resumption of normal business activity in the event of a disaster, and full preparation to help minimize damage caused by unforeseen circumstances.