Initiatives for Empowering a Diverse Range of Talent
Diversity & Inclusion Initiatives
The Kewpie Group's Approach to Diversity and Inclusion
For the Kewpie Group, diversity and inclusion are the foundation of its growth strategy. Based on the understanding that all employees are diversity leaders with diverse values, we aim to create value and contribute to the growth of the entire Group and society by making the most of both the varied attributes of employees and their different professional experiences and skills.
In addition to valuing dialogue and understanding between the company and employees, we work to create a corporate culture that maximizes the individuality, skills, and willingness to grow of each employee working around the world by creating opportunities that lead to an understanding of diversity and inclusion, creating opportunities for diverse employees to play an active role in the business, and creating career and learning systems that allow employees to grow.
Fostering a Corporate Culture That Creates New Value
To ensure that the various perspectives and skills of each employee create new value and improve the overall strength of the Group, we work to promote an understanding of diversity, create a system that allows diversity to flourish, and increase the mobility of human resources. Since 2017, we have been carrying out a diversity survey (Kewpie Corporation only) to explore employees' understanding and awareness of diversity. This survey is used to examine our diversity measures and verify their effectiveness.
Through various initiatives, we strive to create a mentally supportive and safe corporate culture that empowers employees to take on challenges and accomplish goals.
Diversity Seminars and Study Sessions
We hold diversity seminars that are open to all Group employees and diversity study sessions for each department and company. By sharing the direction and objectives of diversity promotion, we enhance employees' awareness and accelerate the promotion of diversity.
Diverse Human Resources Participate in Important Decision-Making
We have developed the "KEEP20" initiative, in which over 20% of the participants of important meetings are made up of diverse human resources (in terms of age, gender, skills, and careers), to draw out different perspectives and stimulate discussion. For traditional participants, this initiative provides new insights, and for the diverse participants, it is a learning opportunity that exposes them to management information and business decisions. In 2021, the program was implemented in 14 important meetings.
Diverse Meeting Participants and Management Exchange Opinions
"Shuffle Meetings" are meetings designed to allow diverse employees across different jobs and departments to exchange opinions and engage in conversation to share objectives and ideas. The initiative began in 2020, and to date, over 500 members of the Group have participated. A diverse group of employees, including management, who work hard in their respective locations daily and who are committed to the Group's operations, gather online to share different perspectives, acknowledge each other, and think about each other's ideas, thereby raising the awareness of their and the organization's growth and building an employee network.
Allowing All Group Employees to Leverage Their Potential
Toward the Advancement of Female Employees
In FY2021, the ratio of female managers in the Kewpie Group was 9%, and the ratio of female managers in Kewpie alone was 11%. To ensure that female employees, who account for approximately half of the Group's workforce, can fully participate in the business, we promote the development of female career-track positions, the introduction of a career-track system that does not require relocation, and the conversion of regional positions to career-track positions. In addition to personnel and labor systems, we aim to become a company where motivated female employees can continue to work and find success by changing the company's management and culture.
| Important Human Resources Development Indices | FY2021 Results | FY2024 Target | FY2030 Target |
| --- | --- | --- | --- |
| Ratio of female managers (Kewpie only) | 11% | 18% | 30% |
Study Sessions for the Group's Female Managers
Female managers from the Kewpie Group host and gather for regular study sessions, which include lectures from executive managers and outside experts and opportunities to gain the required knowledge for management positions. The aim is for female managers to explore how to take steps toward their career goals, find a management method unique to them, and act on it. Discussions among members have also created networks of female managers.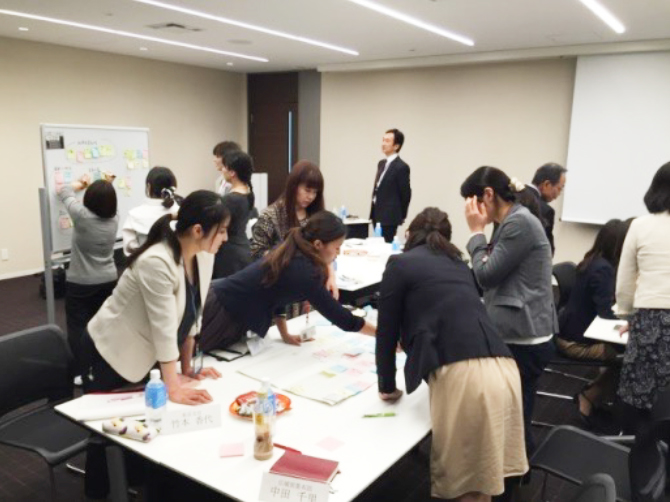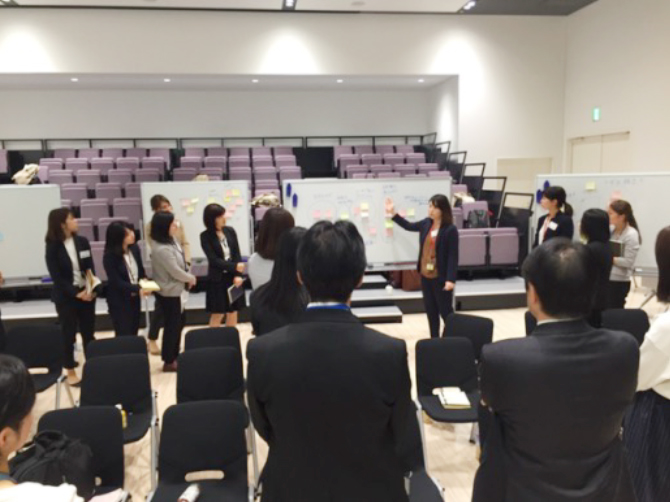 Approach Toward the Employment of Persons with Disabilities
As it does for all its employees, the Kewpie Group aims to create an environment in which those with disabilities can demonstrate their potential and experience the joy of work and purpose.
In support of this aim, the employment of persons with disabilities is not undertaken at the Group level. Instead, each Group company, including Kewpie Corporation and Kewpie Ai Co., Ltd. (a special subsidiary), employs people with disabilities in their respective regions, thereby creating diverse employment opportunities in a broad range of communities.
Trends in the Ratio of Employment for Persons with Disabilities (percentage of total employees as of December 1, 2021)
| 2017 | 2018 | 2019 | 2020 | 2021 |
| --- | --- | --- | --- | --- |
| 3.30% | 3.54% | 3.60% | 3.67% | 3.76% |
Initiatives at Group Companies
Kewpie Ai Co., Ltd., a special subsidiary, is responsible for a wide range of operations, including in-house logistics, cleaning, and the production and distribution of marketing materials. The employment rate of persons with disabilities is 3.38% (Kewpie parent company + Kewpie Ai: as of December 1, 2021). Moreover, Kewpie Egg Corporation actively employs people with disabilities at 22 production plants across Japan, and the employment rate of people with disabilities at each Group company is 5.81%.
Initiatives for Human Resources Development
Approach to Human Resources Development
The Kewpie Group cares deeply about the careers of each of its employees. In addition to specialized training and self-development programs to achieve diversity, we provide the following career support systems.
1. Growth Milestone Program
2. Career Self-Declaration Scheme
3. In-House Recruiting System
We encourage employees to identify each of their aspirations and paths to growth so that they can seek learning opportunities to that end and gain necessary experience, such as through interactions with other personnel.
Specifically, we offer the "Growth Milestone Program" and "Career Training" as well as the "Career Self-Declaration Scheme," which allows employees to independently apply for a transfer to their desired positions.
Furthermore, we established the "Kewpie Group In-House Recruiting System 2030," which calls for applications from employees across the Group who are eager for challenges. We ask them to submit ideas for new businesses or certain concepts they wish to strengthen and select applications with strong aspirations.
These career-supporting initiatives aim to bring out the greatest potential in each employee and turn their aspirations into reality. With these initiatives, we strive to not only place the right people in the right positions, but also nurture a corporate culture that encourages challenge and create a workplace in which our diverse personnel can flourish.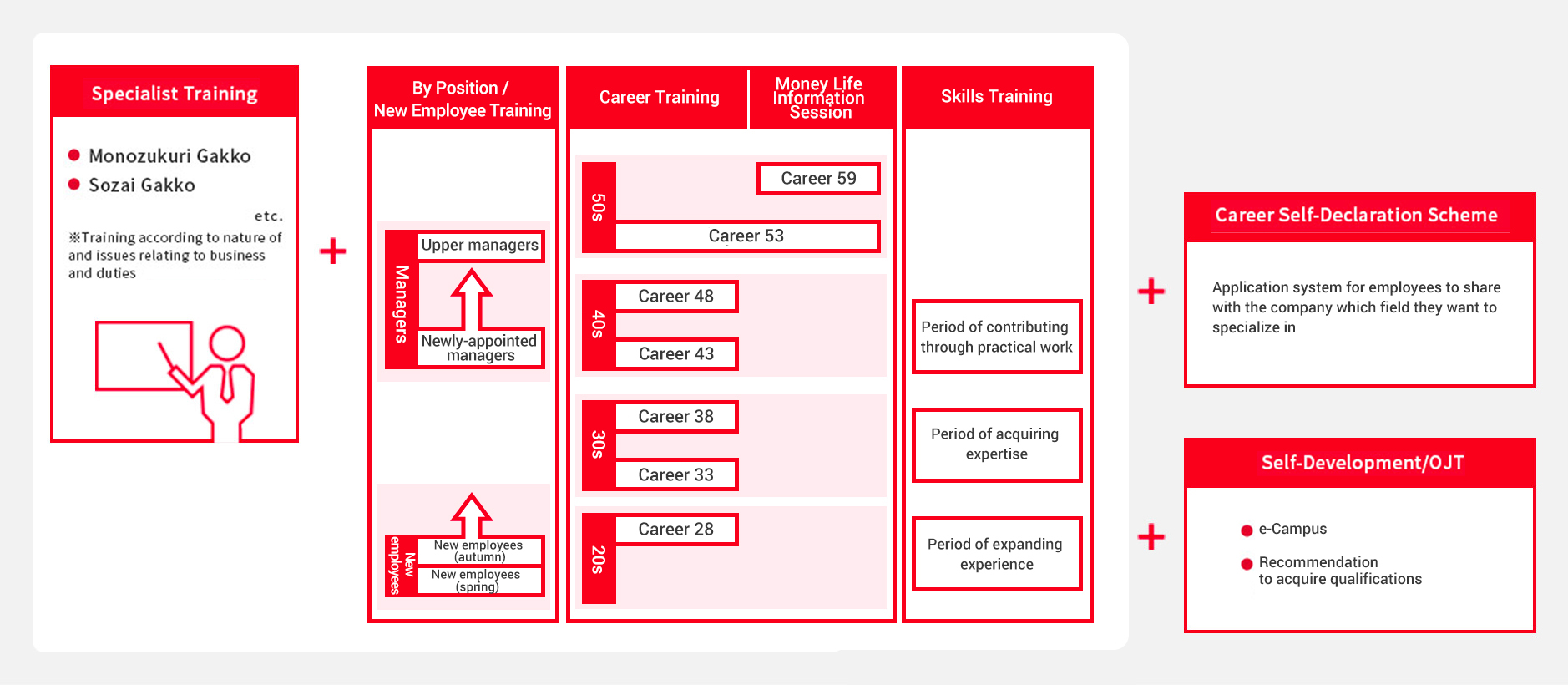 Kewpie Career Assistance Framework
Award Schemes
As a way to support our employees' active challenges and learning, and to encourage them to voice suggestions for the sake of the company's future, the Kewpie Group has established a variety of award schemes, including the President's Award.
President's Award
An award recognizing employees who have produced outstanding results or contributed to society by leveraging the Group's technologies or by demonstrating ingenuity. The President's Award aims to create a corporate culture unique to the Kewpie Group.
Invention Award
An award recognizing employees who have acquired patents that greatly contribute to the company or lead to making social contributions.
Kewpie Research Paper Award
An award recognizing employees who have written papers that make suggestions for the company's future, based on the changes happening in the world or issues that employees face in their day-to-day lives.
This long-standing award, which has continued for over 50 years, also hopes to encourage self-improvement in employees as they write the papers.
Qualifications Award
The Qualifications Award was established to support the career of each and every employee and create a corporate culture that encourages independent learning. In addition to supporting the employees' further studies, the program also notifies applicants of which qualifications the company is particularly looking for, so that both employees and the company can grow hand in hand.
Initiatives for New Challenges
The Kewpie Group is actively engaged in initiatives that look to new challenges by promoting wide-ranging research and development of mayonnaise, dressings, eggs and vegetables, while also pursuing systems for the creation of innovations. While also taking advantage of outside help, we use Group cooperation to create new values and respond to the expectations of our stakeholders.
Kewpie Startup Program
We have established the Kewpie Start Up Program with the aims of realizing individual employees' ideas and creating new businesses. Participants in the program have the opportunity to form networks of mentors that transcend divisions, which will help them upgrade their skills and advance their careers.

Ideas from the Kewpie Start Up Program
New Possibilities of Acetic Acid Bacteria Enzymes
The Kewpie Group has conducted continuous research into vinegar, one of the main ingredients of mayonnaise. YOITOKI is the first product in the world to come from technologies for culturing acetic acid bacteria in large volume.
Food with Function Claims "Diare"
"Diare" is a supplement made from a blend of acetic acid bacterium GK-1 and GABA.
After releasing "YOITOKI" where we ascertained a new possibility for the acetic acid bacterium used in vinegar production for people who drink, under the same theme of acetic acid bacterium but with a different approach from "YOITOKI," we started research into health benefits. As a result, in 2018, "Diare" was chosen using an in-house competition system.
The acetic acid bacterium GK-1 is reported to reduce nasal discomfort caused by pollen, dirt, and house dust. "Diare" was the first food with function claims to be approved to show "pollen" as a causative agent for nasal discomfort.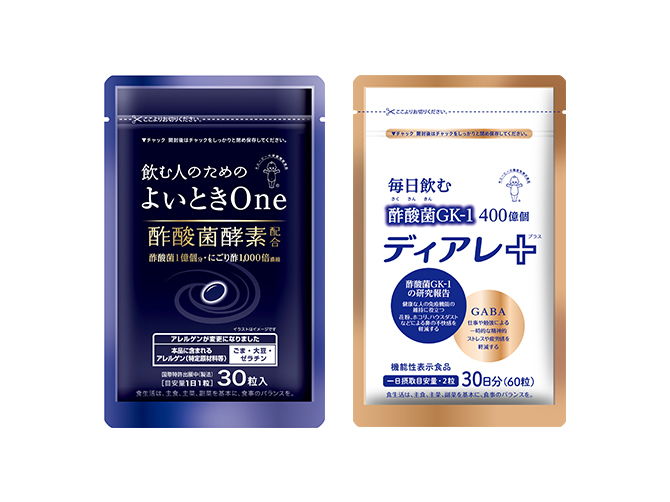 Products born from the Kewpie Startup Program
GABA Potato Salad
The "Karada Omoi Menu" (Body-Friendly Menu) delicatessen series was developed based on the business plan that was selected from among the 2019 applications. It became the first food with function claims in the delicatessen foods industry and was released in September 2020 in the greater Tokyo area.
The product contains GABA* and features a label saying "for individuals with high blood pressure." This makes it a salad that can be enjoyed by those who are concerned about their blood pressure levels as well as those who are health conscious.
*Gamma aminobutyric acid (GABA) is reported to lower blood pressure in individuals with high blood pressure. Going forward, we will further expand our lineup.
"Fukaya Terrace Vegetable Friends' Farm" Opened
In Fukaya City, Saitama Prefecture, we have opened a facility based on the concept of "a farm where people are inspired by and grow to love vegetables with a smile on their faces." We work together with the local community to provide attractive content to encourage people to enjoy vegetables using the Kewpie Group's knowledge of vegetables and eggs. We are working on this project with a range of others, including Otowa Creation, Cosmo Farm, and agricultural producers.
*Opened on May 29 2022
Concept

"A farm where people are inspired by and grow to love vegetables with a smile on their faces."
An interactive facility consisting of four content streams that allow visitors to experience the life and color of vegetables with all five senses.

"Hands-on farm" where you can directly experience the life and color of vegetables.
"Marche" where you can choose what to eat and know when and how to eat it.
"Restaurant" where you can encounter the blessings of the season and be happy.
"Vegetable class" where you can touch, eat and learn with your five senses.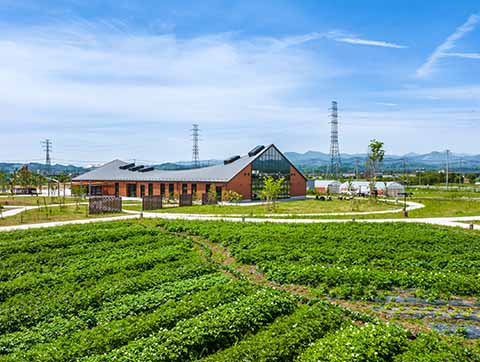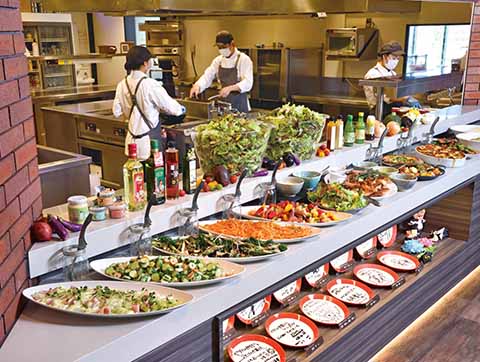 Conceptual image of Fukaya Terrace Vegetable Friends' Farm
Flexible Work Style Initiatives
Work Style Approach
The Kewpie Group actively supports individual growth and success by offering flexible work styles that allow employees to continue working through various life stages and by preparing environments in which they can reach their fullest potential.
Flexible Work Style Initiatives
The working environment at Kewpie allows employees to pursue productivity while selecting flexible work styles that best fit their individual roles and the characteristics of their jobs. As such, we offer flexible working hours (flextime) with no core working hours, and employees can choose to work from home or a satellite office so that they are not confined to a particular place or time.
Employees working shorter hours can also use the flextime system to balance work and child-rearing.
Birth and Parenting Assistance Initiatives
We use the child-rearing support website to regularly provide company information to employees on childcare leave. Furthermore, before ending their leave, employees meet with their superiors to discuss career aspirations and how they want to work after returning to work. Superiors also take this time to share their hopes and expectations for the employee's continued role in the company.
We support that superiors can come through for those returning from childcare leave by using online learning materials to review relevant management knowledge, such as the company's various systems and about unconscious bias.
We also believe that experiencing child-rearing allows men to expand their perspectives and grow personally. As such, we encourage male employees to take childcare leave and make it mandatory to take at least 10 days off before their children turn two.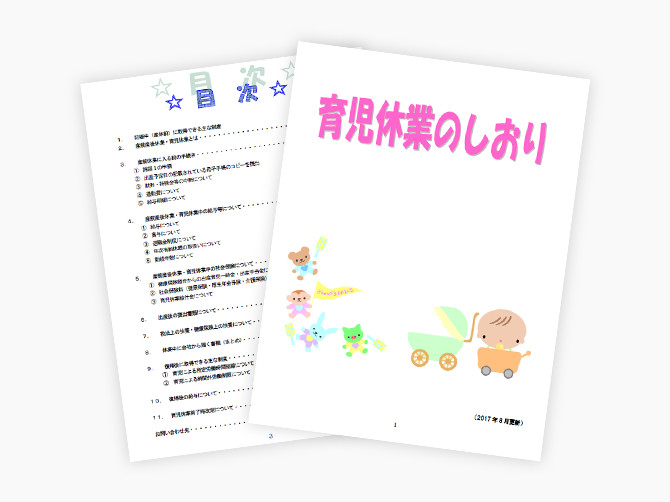 Parental leave guide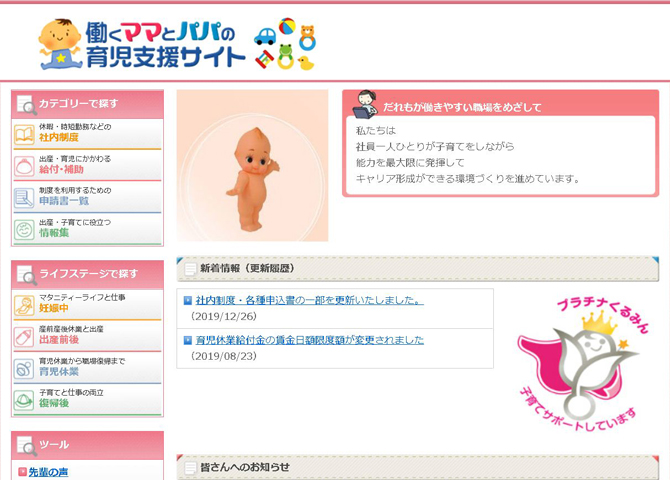 Child-rearing support website
Parental Leave Taken
Female Employees
Number of employees who have taken childcare leave this year
(Survey subjects: Kewpie Corporation only)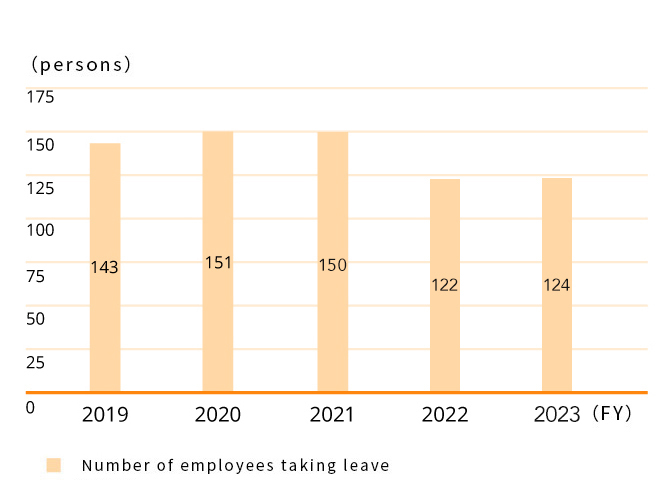 Male Employees
Number of leave takers: the number of employees who took leave before their children turned two
Ratio of leave takers: the ratio of employees who took leave the year their children were born
(Survey subjects: Kewpie Corporation only)