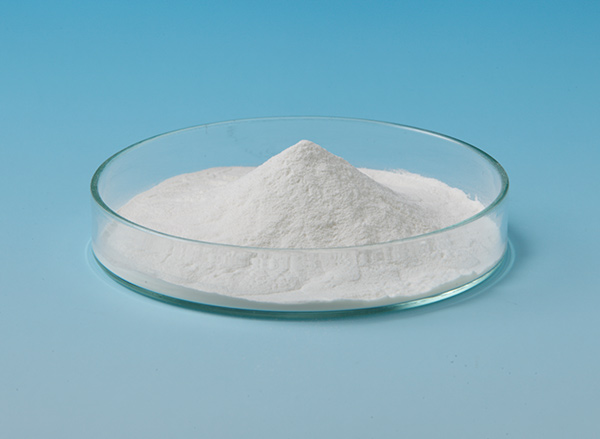 A product made heat resistant (does not solidify in response to heat), while maintaining the original balance of amino acids.
Average molecular weight is approximately 1100 and water solution is milky.
Product Features
Egg white peptide
Degrading egg white protein with enzymes results in egg white peptides in which multiple amino acids are linked.
In addition to the superior nutritional value of egg white protein itself, egg white peptides display many properties not seen in either amino acids or proteins.
Testing in animals has confirmed that egg white peptides act to inhibit increased cholesterol in the blood. It has also been confirmed that egg white peptides have antioxidation action in food products and living things.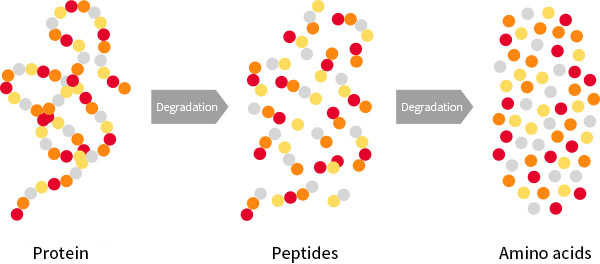 Characteristics and function of egg white peptides
Turning egg white into peptides increases the efficiency of digestibility and absorption in the intestinal tract.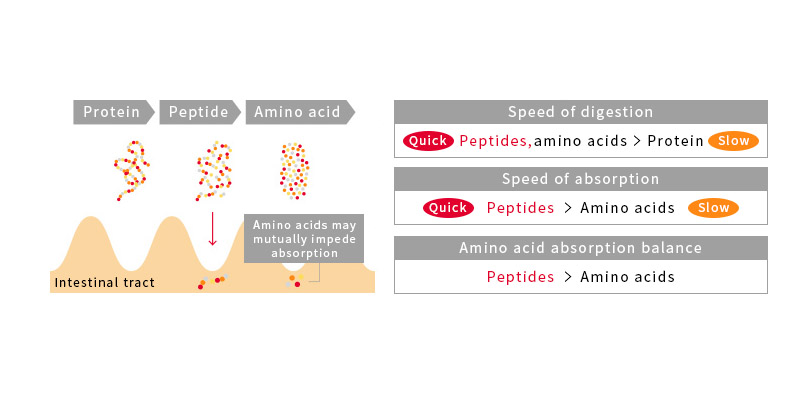 Nutritional properties
1. High protein, low fat
2. A protein that is superior in everything from digestion through absorption to use in the body
3. Contains an abundance of branched-chain and sulfur-containing amino acids
Physiological functions
1. Reported to be efficacious in reducing LDL cholesterol and increasing HDL cholesterol
2. Reported to reduce liver fat and liver cholesterol
3. Confirmed to inhibit oxidation in the body
Anti-oxidant function
Inhibits food oxidation
Nutritional properties of egg white peptide
(Product name: Egg White Peptide EP-1)
Amino acid composition of egg white peptide
We compared the amino acid composition of Egg White Peptide EP-1 (manufactured by Kewpie), egg white protein, dairy protein, and soy protein.
Amino acid composition and amino acid scores
Amino acids


(The words written in orange is Essential amino acid.)

Amino acid
Scoring pattern
Amino acid composition
Egg White Peptides EP-1
Egg White
Milk protein
Soybean protein

Valine

 ※1
220
466
460
410
300

Leucine

 ※1
410
560
560
620
470

Isoleucine

 ※1
180
343
350
340
290

Methionine

 ※1
160
232
250
170
90
Cyctine ※2
174
200
57
99

Lysine

360
445
430
520
390

Phenylalanine

390
401
380
300
330
Tyrosine
276
250
240
210

Threonine

210
287
280
260
230

Tryptophan

70
93
98
83
79

Histidine

120
162
160
180
170

Amino acid score

-
100
100
100
100
mg/g Nitorogen
Revised Tables of Amino Acid Composition of Foods by Resource Survey
Association and Resource Survey Center, Japan Science and Technology
Agency:1986
*1 branched-chain amino acid (BCAA)
*2 sulfur-containing amino acid
Egg White Peptides EP-1 has a good amino acid balance and is rich in branched-chain amino acids (BCAA) and sulfur-containing amino acids.
Efficacy data 1
Efficacy data 2
Egg White Ingredients for Food Use
Egg White Peptides EP-1

A white to pale yellow colored powder of chicken egg white hydrolyzed using enzymes to lower molecular weight.
Best for keeping balanced Amino acids and not coagulating when heated.
*Average molecular weight is approximately 1,100.
Eggshell Membrane for Food Use
EM Powder (300)

Finely-powdered Eggshell Membrane.
Other Ingredients Derived from Eggs
Egg White Lysozyme

Enzymes extracted from egg whites and white-powder food additive with slight sweetness.