Kewpie Fine Chemical Product Quality Assurance Systems
The quality of products is assured in compliance with Good Manufacturing Practice (GMP) for pharmaceutical products.
In the event that a problem arises, our systems ensure traceability of all production control, quality control, and hygiene control procedures.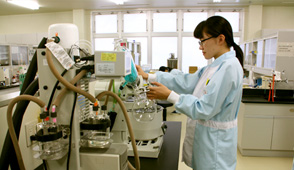 Quality Assurance Systems
In accordance with GMP, the manufacturing division and quality assurance division have independent organizational structures. The quality assurance division consists of a quality control section that conducts analysis and a quality assurance section that determines whether products are fit for shipment.
Good Manufacturing Practice (GMP)

Production control and quality control standards for pharmaceutical products determined by laws and regulations.

・Minimize human error
・Prevent pharmaceutical product contamination and quality deterioration
・Control systems assure high quality