®-P Hyaloveil


A new type of Hyaluronic acid for skin and hair care that supplements a moist feel in skin and shine and suppleness in hair.
Product Features
What is Hyaloveil®-P?
Hyaloveil®-P has achieved the Hyaluronic acid attributes to moisture retention and viscosity, as well as adsorption to hair and skin so that it is not washed off easily.
The Hyaluronic acid veil of moisture envelopes the hair and skin and moisture is sustained even after being washed away.
Adsorption to hair
Hyaloveil®-P adsorption to both healthy and damaged hair is superior.
* Hair treated with Hyaloveil®-P has stronger fluorescence than normal untreated hair.

The additional power of ions mean that more Hyaloveil®-P adsorbs to the hair.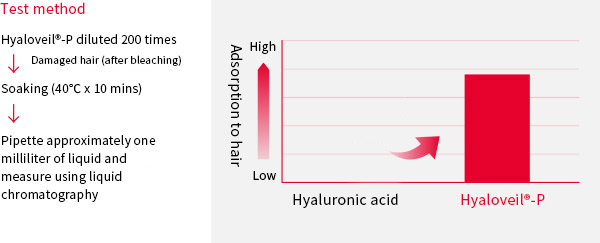 Efficacy data 1
Efficacy data 2
Functional Hyaluronic acid for other cosmetics
Hyaluronic acid for other food and nutraceutical use