About Eggshell Membrane
Structure of Eggshell Membrane
Structure of Eggshell Membrane
Eggshell Membrane is the thin membrane on the inside of an eggshell. Its prime constituent is protein and it has a two layered, reticulated structures. The exterior is rough, while the interior structure is dense. It is said that injured sumo wrestlers used to apply Eggshell Membrane to open wounds to promote wound healing.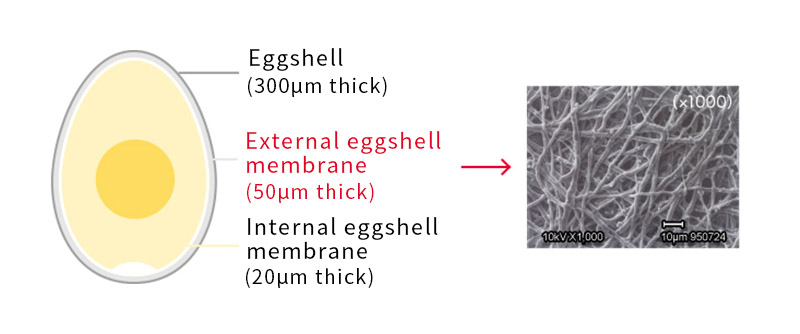 Structural features of Eggshell Membrane
・ 70 μm thick. The outer and inner membranes forms an air chamber between them.
・ Outer membrane: 50 μm; Inner membrane: 20μm
― The inner membrane consists of 3 layers of fibers aligned parallel to the eggshell.
― The outer membrane consists of 6 layers of fibers, which alternately cross each other at different angles.
・ Fibrous protein
・ There is a lamella structure among fibers connecting fibers to reduce space between fibers and provide elasticity.
Reference cited: "Egg Science and Technology, 3rd Edition (1980), edited by Yasushi Sato
Use of Eggshell Membrane
Functionality of water soluble Eggshell Membrane (1)
—biological affinity
Functionality of water soluble Eggshell Membrane (2)
—promoting production of
type III collagen