Intellectual Property Rights
Our Technologies and Intellectual Property Rights
Industry-leading product protection (approximately 750 patents held in Japan and overseas)
Given that the Kewpie Group possesses numerous product lines commanding top market shares in Japan, including mayonnaise, jams, processed eggs, and cut vegetables, we are actively applying for patents in order to maintain and extend our technological advantages. We are also increasing the number of patent applications we make outside Japan as we extend the reach of our businesses overseas.
Number of Patents Held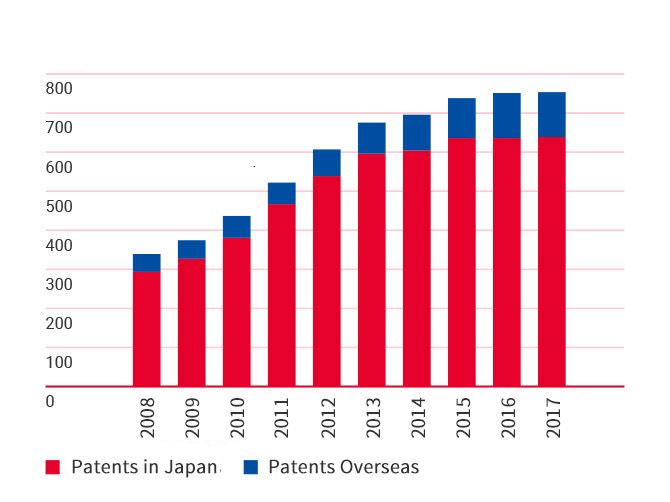 Priority Fields for Patent Applications
(1) Priority fields as a leading company in the salad and egg products markets
Aiming to be a leading company in the salad and egg products markets, the Kewpie Group is investing effort in research relating to salad (condiments and the Delicatessen Products Business) and egg products (the Egg Products and Fine Chemical Products businesses, and new market areas).
(2) Penetrating new market areas
Unfettered by its existing business areas, the Kewpie Group is actively venturing into new market areas such as healthcare, household goods, and AI technology.
Patent Applications by Field (FY2015–2017; 220 Applications in Total)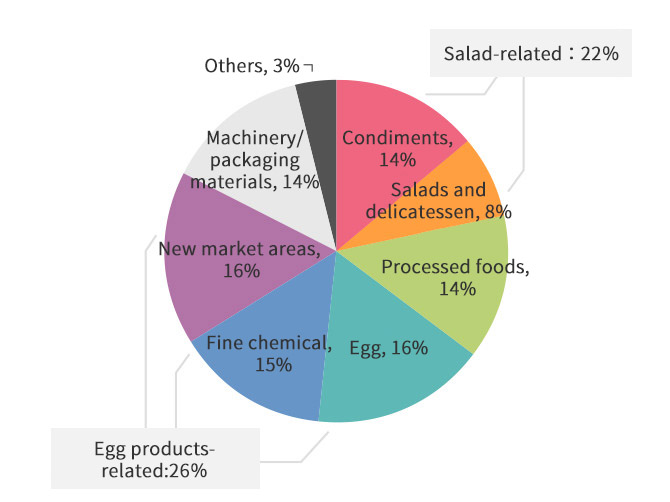 Examples of Intellectual Property Rights Protecting Kewpie's Products
Kewpie uses a combination of patent rights and trademark rights to protect its staple products and products that are particularly distinctive.